The 18+ Rome Italian LEGO Creator Expert 10276 Colosseum set has been officially revealed! Contains 9036 pieces and is recommended for those 18+. Available at LEGO Brand Retail Stores and LEGO Shop at Home (USA | Canada | UK | Australia) beginning November 27, 2020. It will launch on Black Friday and it appears there will also be a free Roman Chariot set with purchase of 10276 Colosseum, free Holiday Tree gift with purchases over £40 and discounts on selected items as well. There will also be other Black Friday LEGO gift with purchases including LEGO 40410 Charles Dickens Tribute (A Christmas Carol) and the LEGO buildable 2×4 teal brick.
This is the largest LEGO brick set ever released. Price is $549.99 USD / $649.99 CAD / £449.99 GBP. Additional product images available on LEGO Shop at Home (USA | Canada | UK | Australia)  by searching 10276.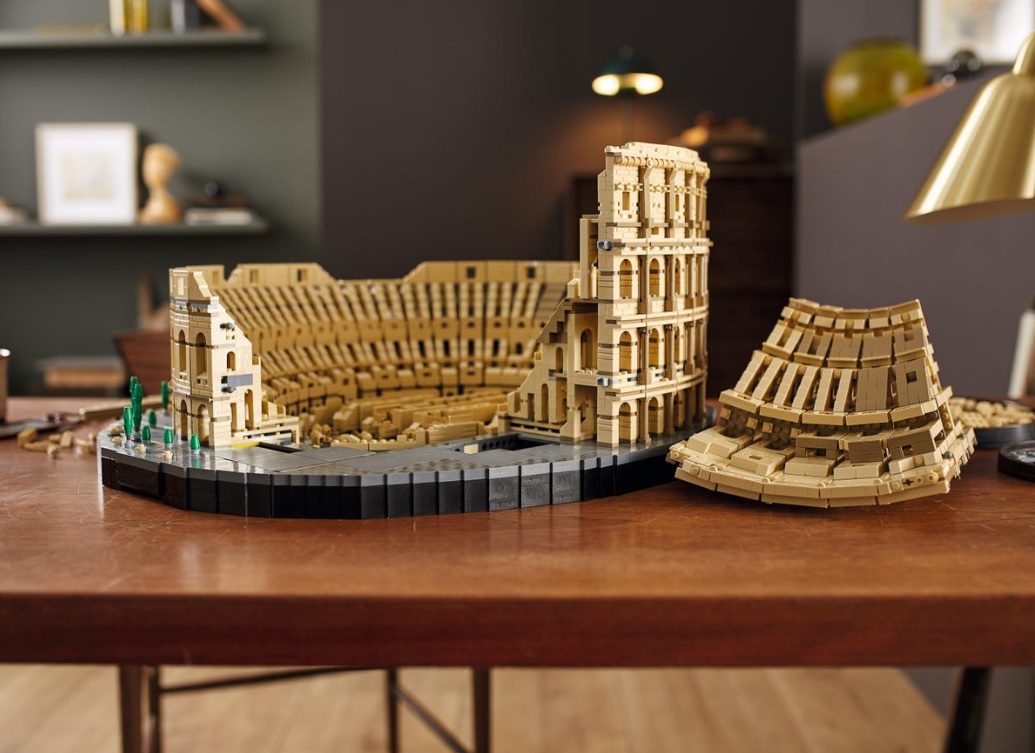 Billund, November 13th 2020: This Black Friday, LEGO® fans can take home a piece of history and re-create Rome's most iconic landmark, with the awe-inspiring new LEGO Colosseum set. Made up of 9,036 pieces, this is not only the largest LEGO brick set launched to date (taking the title from the LEGO® Star Wars™ Millennium Falcon) it's also been expertly designed to mimic the incredible architecture of the original Roman amphitheatre, making it a building project to savour and a set to marvel at.
Both LEGO fans and History buffs need to look no further than their living room to experience a taste of Italian history, as this LEGO brick model is a truly authentic LEGO brick recreation of the mighty Colosseum – featuring many true-to-life details to help builders accurately bring this famous building to life. This epic LEGO model features a recreation of the three distinct stories from the Colosseum, with each of these stories adorned with the columns of the Doric, Ionic and Corinthian orders. These columns have been faithfully recreated in LEGO brick form using a variety of creative building techniques, including decorative volutes that have been created using a recoloured LEGO roller skate element that has been turned upside down to create an authentic look.
Every detail of the set has been meticulously crafted to stay true to the real-life Colosseum – including having 80 'ribs' in the spectator stands (the exact same number as the original) and having three different shades of brick to replicate the different columns and aging of the almost 2,000 year old landmark. The build experience has even been expertly created to match the same process as the original, with the "wooden" LEGO arena being the last build to be placed on the LEGO model, as it has been in the 1990s. As well as being a challenging build, this model is truly a breath-taking focal point for any room. The LEGO Colosseum rests on an oval base, allowing this phenomenal 360-degree display piece to be shown off from any angle. Builders can then choose which side of this magnificent LEGO Brick recreation of one of Rome's most visited landmarks they display – whether that's the southern side of the building, which has been destroyed by various earthquakes and natural disasters over the years, or the more complete northern wall. Colosseum features arches, that have been recreated with LEGO brick detailing, allowing a view into the centre of the Colosseum from the outside, just like its real-life counterpart.
The set was designed by Rok Zgalin Kobe who commented:
" One of the biggest challenges and one of the most important things was to convey the Colosseum's monumentality in the LEGO form. I felt that the LEGO model should display a special architectural feature of the original – the rows of columns flanking the arches in different styles. To achieve that, the model is constructed using an effect of vertical exaggeration. The cross-section is therefore far steeper than on the real structure. Hopefully, people will be inspired to learn more about the original through the experience of building the LEGO model."
The LEGO Colosseum measures over 10.5" (27cm) high, 20.5" (52cm) wide and 23.5" (59cm) deep making this a spectacular centre piece for any LEGO brick collection.
The set will launch on 27th November, on Black Friday, as part of the LEGO Stores and LEGO Shop at Home (USA | Canada | UK | Australia) Black Friday offerings. LEGO VIP members who purchase the exclusive model during the Black Friday Cyber Monday weekend will receive a limited-edition gift with purchase, a Roman Chariot, which can be displayed alongside the Colosseum. Shoppers can sign up to the VIP Program free either in store or online. Included in the Black Friday promotions are a range of other deals including an exclusive Charles Dickens tribute gift with purchases over £150, a Holiday Tree gift with purchases over £40, discounts on selected items, a chance to win 1,000,000 VIP points and exclusive VIP rewards launching throughout the weekend!
LEGO Colosseum will be available directly via LEGO Shop at Home (USA | Canada | UK | Australia) and LEGO Stores from 27th November.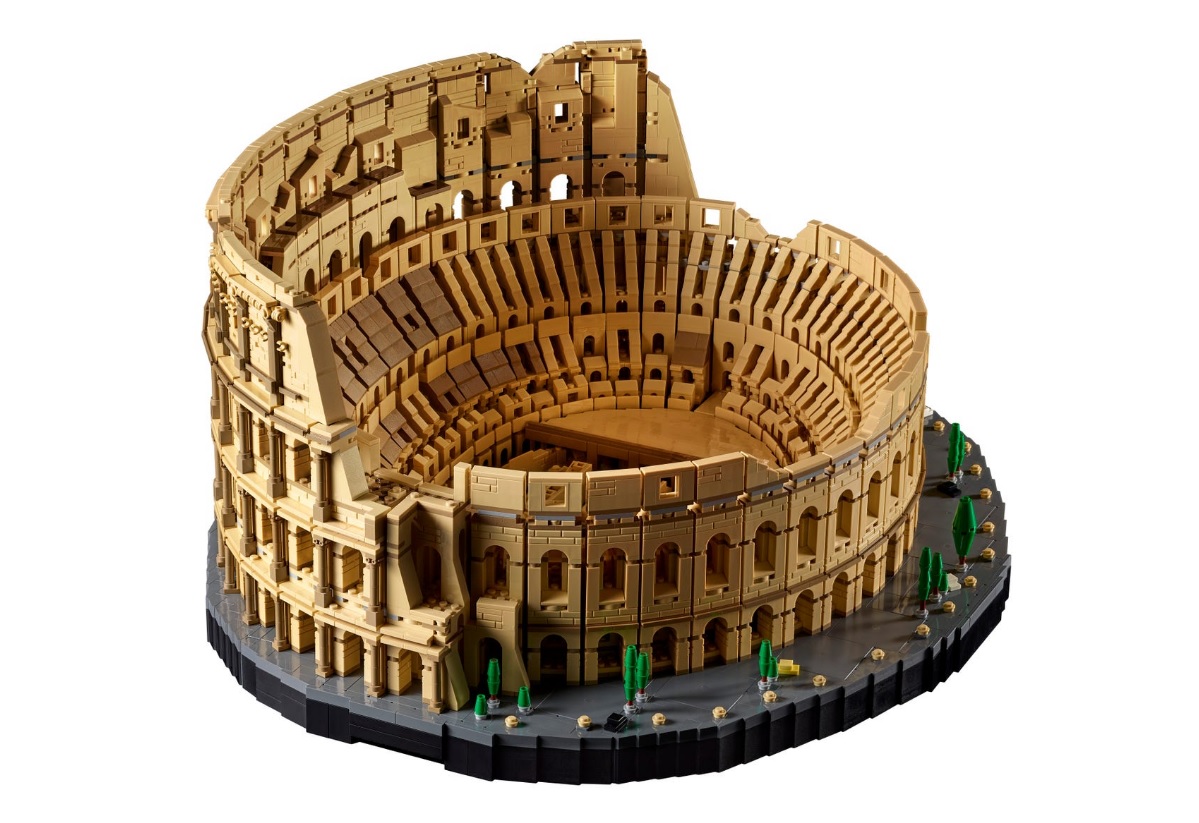 LEGO 10276 Colosseum Product Description
Nowhere on Earth compares to the majesty of the Colosseum of Rome. So, get ready to escape your everyday life as you take on the biggest ever LEGO® build (as at November 2020) yet. This epic 9,036-piece Colosseum model depicts each part of the famous structure in great detail. Authentic detailing shows the northern part of the outer wall's facade and its iconic arches. The model features 3 storeys, adorned with columns of the Doric, Ionic and Corinthian orders while the attic is decorated with Corinthian pilasters.
An awe-inspiring display piece
The LEGO Colosseum (10276) rests on an oval display base so the model can be seen from every aspect. It's one of the biggest LEGO models ever but can easily be picked up, allowing you to look through the arches from all angles.
A building project to savour
The Colosseum is part of a collection of LEGO models for adults who love beautiful architecture and thoughtful design. It also makes a great gift for architecture enthusiasts and LEGO lovers.
Bring to life your own brick-built model of the mighty Colosseum with this engaging and rewarding LEGO® Colosseum (10276) model kit for adults.
With an astounding 9,036 pieces, this Colosseum model is the biggest LEGO® set ever (as at November 2020), providing hours of relaxation for adults who love building sets.
Anyone with a passion for architecture models will appreciate the amazing detail packed into this Colosseum souvenir. With 3 stories, the model is adorned with columns of the Doric, Ionic and Corinthian orders.
If you're looking for special gifts for architecture fans or history lovers, this building set is a great choice, providing hours of hands-on building experiences with a stunning Colosseum model to display.
This Colosseum architecture model measures over 10.5" (27cm) high, 20.5" (52cm) wide and 23.5" (59cm) deep. With 9,036 pieces it's one of the biggest LEGO® sets in the world, but is easy to lift and turn.
The Romans didn't need batteries and neither do you! This Colosseum model runs on the power of imagination – no batteries required.
This model comes with coffee-table-style building instructions with design and history details to inspire you.
Part of a series of inspiring LEGO® building sets designed for LEGO building fans, and hobbyists who love elegant design, beautiful architecture and models packed with detail.
LEGO® building bricks meet the highest industry standards, which ensures they are consistent, compatible and connect and pull apart easily every time – it's been that way since 1958.
LEGO® bricks and pieces are rigorously tested to ensure that every building set meets the highest safety and quality standards, so you can be sure that this architectural model is designed to last.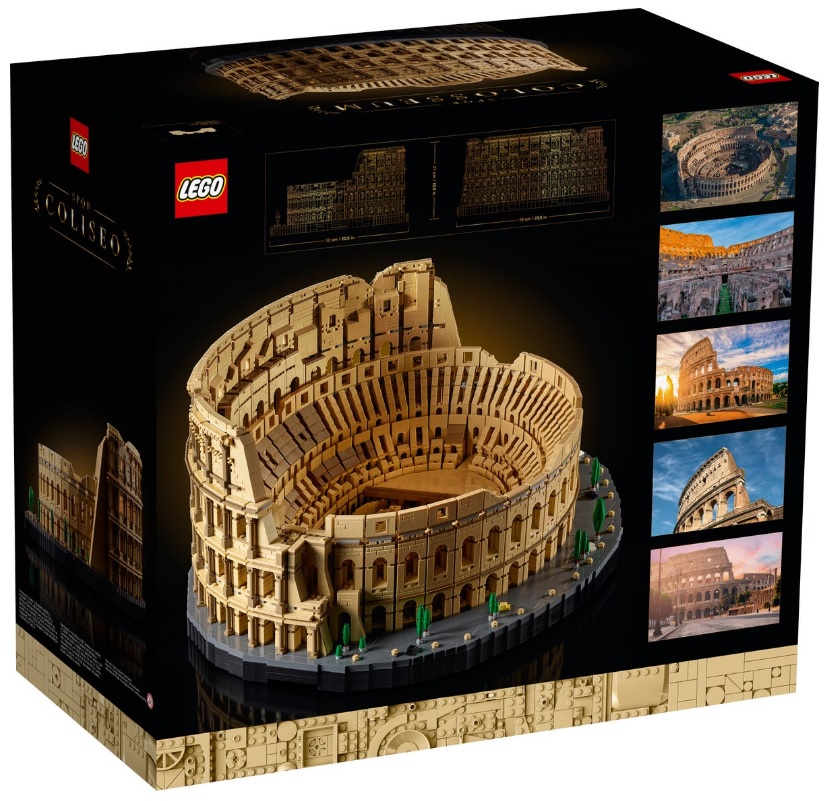 Toys N Bricks is your destination for the latest and hottest LEGO News, Sales News, Creations and Reviews! (www.toysnbricks.com)
Visit the new 2020 Toysnbricks LEGO Forums for LEGO Related Discussions. Registration is free.
Subscribe by Email and Follow Us on Facebook, Twitter, Instagram and Flickr.