The four new LEGO Bricktober 2014 Mini Modular building sets are apparently now being put on the shelves at Toys R Us for direct sale. Forum member byobu found LEGO 40182 Bricktober Fire Station for $19.99 USD at his local Toys R Us store in America. Although the set is close to the 200 piece range making it the "golden ratio" of $0.1 per piece, the set is actually small and looks more like a $10 set.
40180 LEGO Bricktober Theatre
40181 LEGO Bricktober Pizza Parlour
40182 LEGO Bricktober Fire Station
40183 LEGO Bricktober Town Hall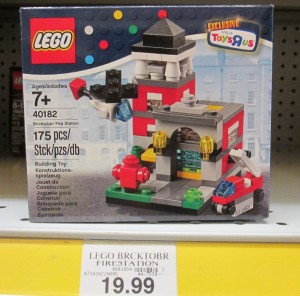 In the past, these Bricktober exclusives are usually free with LEGO purchases of $60 for USA or $75 for Canada. Do you prefer the new way where Toys R Us now directly sell these sets or do you prefer the old ways where they give them away when you meet a certain spending threshold?