The details for LEGO Bricktober 2016 is now here! You can an exclusive LEGO Minifigure Collection when you spend $75 or more on LEGO building sets. There's also details for the next two month's worth of LEGO events. These include free mini builds. Thanks to forum member hatcher for the news.
LEGO Bricktober 2016 Minifigure Collection Exclusive Gifts
-LEGO Musicians Minifigure Collection (September 30 to October 6)
-LEGO Warriors Minifigure Collection (October 7-13)
-LEGO Athletes Minifigure Collection (October 14-20)
-LEGO Cops & Robbers Minifigure Collection (October 21-27)
In addition, you also qualify for a free LEGO Minifigure build when you spend $25 or more each week on any LEGO building sets. These minifigure build/sets include a mini LEGO Star Wars First Order Star Destroyer, LEGO Spider-Man vs The Venom Symbiote, LEGO Nexo Knights Minifigure and LEGO Ninjago Minifigure.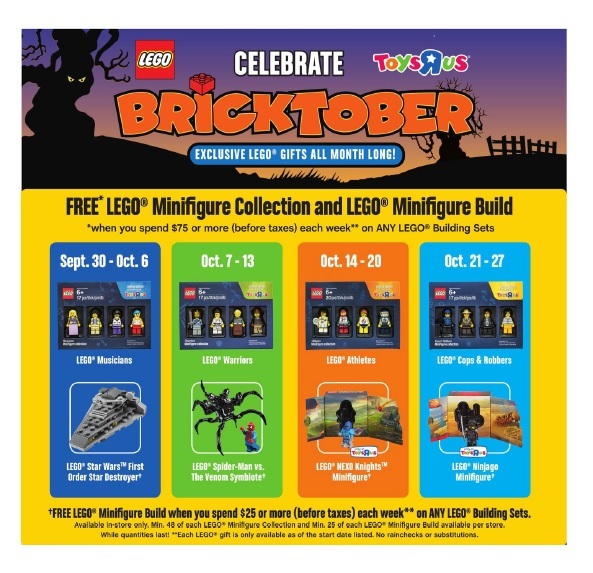 LEGO October & November 2016 Building Events at ToysRUs Canada Brictober
Finally, Toys R Us Canada will also have additional LEGO events as well. They will have a LEGO Nexo Knights Monster Make & Take on October 18, a LEGO City & LEGO Friends Make & Take on October 22 and a LEGO 2 in 1 Holiday Make and Take on November 19. For November 12, they will be having a LEGO Star Wars Minifigure Trade in Event.