The first ever LEGO Silverado was unveiled at the North America International Auto Show. The model is a life size replica of the 2019 Silverado 1500 LT Trail Boss. Full press release can be found at Chevrolet.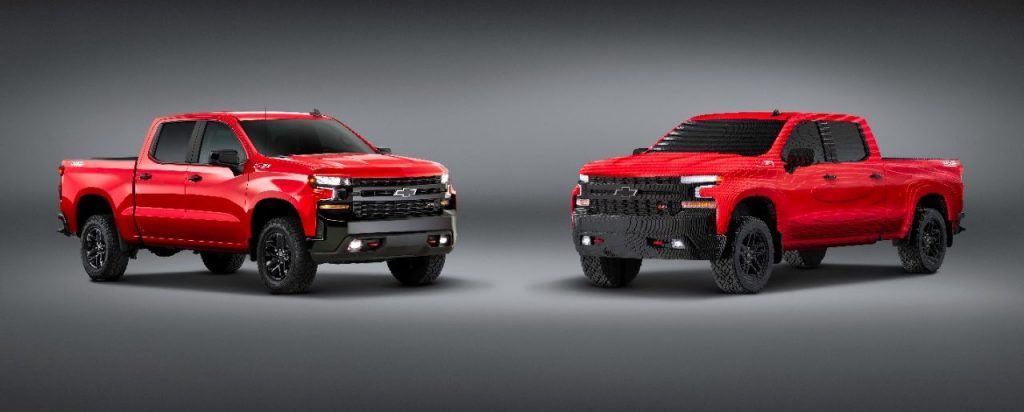 "Chevrolet is once again thrilled to be working with Warner Bros. to integrate the brand and one of our most iconic products – Silverado – into 'The LEGO Movie 2: The Second Part,'" said Sandor Piszar, director of Chevrolet Truck marketing. "The themes of determination and teamwork in the new movie align perfectly with our Chevy brand values and we are sure that the all-new Silverado has the features, technologies and strength that would help Emmet, Lucy and their friends as they take on exciting new challenges."
LEGO Silverado Facts
The LEGO® Silverado model is 72 inches (6 feet) high, 240 inches (20 feet) long and 96 inches (8 feet) wide.
Total weight: 3,307 pounds.
Total number of LEGO bricks used to build the LEGO® Silverado: 334,544. Each piece was hand-selected and placed by a specially trained builder.
Most common LEGO brick used: red 2×8 stud brick.
The LEGO® Silverado took 18 builders more than 2,000 hours to assemble.
The LEGO® Silverado was designed and assembled by LEGO Master Builders in the LEGO Group's Model Shop in Enfield, Connecticut.