Update: LEGO Shop at Home states available August 1st for USA/Canada and June 1 for UK/Europe.
The LEGO Group and Warner Brothers has released images and details of 6 new JK Rowling LEGO Harry Potter Wizarding World sets. See below for the press release and images! They will be available July 1st, 2020. Available for pre-order at LEGO Shop at Home (USA | Canada | UK) on April 30, 2020. Additional images available at LEGO Shop at Home.
LEGO Harry Potter Press Release
Featuring well-known characters, creatures and locations familiar to every would-be Hogwarts student in waiting, the new LEGO sets help young builders create adventures of their own. The sets provide opportunities for endless fun as fans help Harry, Ron, Hermione and their faithful friends reenact beloved moments from the films.
These new LEGO sets will enable fans of the Wizarding World to explore Hogwarts in a new and exciting way. They can discover the entrance to The Room of Requirement, lure Professor Umbridge to the Forbidden Forest, gatecrash the Ravenclaw dormitory and explore the Hogwarts Astronomy Tower.
And the adventures extend beyond the walls of the Hogwarts theme…through their play, fans will be able to release Harry Potter from the cupboard under the stairs at 4 Privet Drive, send Hedwig off to deliver an important message or explore the enchanted nooks and crannies of The Burrow.
Spanning adventures from across the eight Harry Potter films, the new sets will go on sale from 1st June and will be available to pre-order from 30th April from LEGO and selected retailers globally.
LEGO Harry Potter Hogwarts™ Room of Requirement – Slide the panel to reveal the hidden entrance to the Room of Requirement and join Harry Potter, Hermione Granger and Luna Lovegood for secret Defense Against the Dark Arts practice!
LEGO Harry Potter Hogwarts™ Astronomy Tower – Visit Potions Master Horace Slughorn's classroom and office, check out the magical mandrake in the greenhouse, then explore the Ravenclaw dorm and the cool astronomy equipment.
LEGO Harry Potter Forbidden Forest: Umbridge's Encounter - Trick Professor Umbridge into entering the Forbidden Forest and introduce her to Grawp and a few centaurs.
LEGO Harry Potter 4 Privet Drive - Explore 4 Privet Drive, the Dursley family's home, and discover a whirlwind of excitement!
LEGO Harry Potter Hedwig - Capture the magical personality and elegant movement of Hedwig, the celebrated owl from the Harry Potter films. Available exclusively from Barnes and Noble in the US and many other retailers globally.
LEGO Harry Potter Attack on The Burrow – Explore the crazy, colourful Weasley house with Harry, Ron and the rest of the family and help protect it from the Death Eaters. Available exclusively from Target in the US and many other retailers globally.
Marcos Bessa, LEGO Harry Potter Design Lead commented: "Each year we get the chance to recreate some of the most action-packed and exciting settings from the films. We hope these new products inspire young builders around the world to believe anything is possible as they act out their own adventures in the Wizarding World."
Further Product Details
LEGO Harry Potter  Hogwarts Room of Requirement (75966)
For children aged 7+
193 pieces
The full model, when connected, measures over 2" (7cm) high, 7" (19cm) long and 2" (6cm) deep. The different sections of the set can be attached in a variety of configurations to inspire new ways to play.
Includes 3 minifigures: Harry Potter, Hermione Granger and Luna Lovegood.
19.99 €/$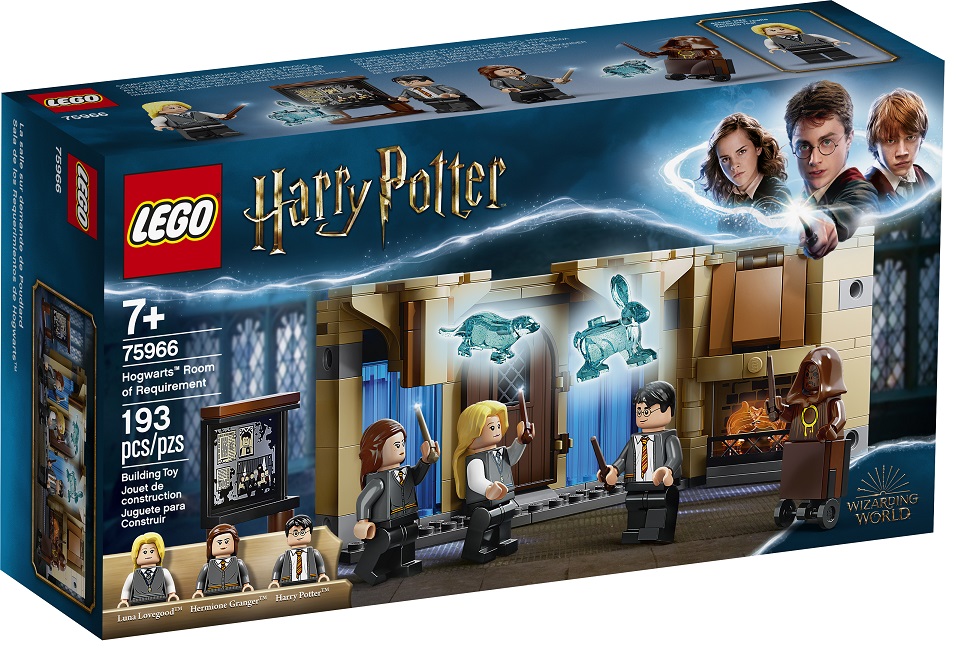 LEGO Harry Potter  Forbidden Forest: Umbridge's Encounter (75967)
For children aged 8+
253 pieces
The full model measures over 4" (12cm) high and Grawp stands over 5" (13cm) high, providing a magical large-scale model for use as part of kids' role-play adventures or on display in their rooms.
Includes 3 minifigures: Harry Potter, Hermione Granger and Dolores Umbridge.
29.99 €/$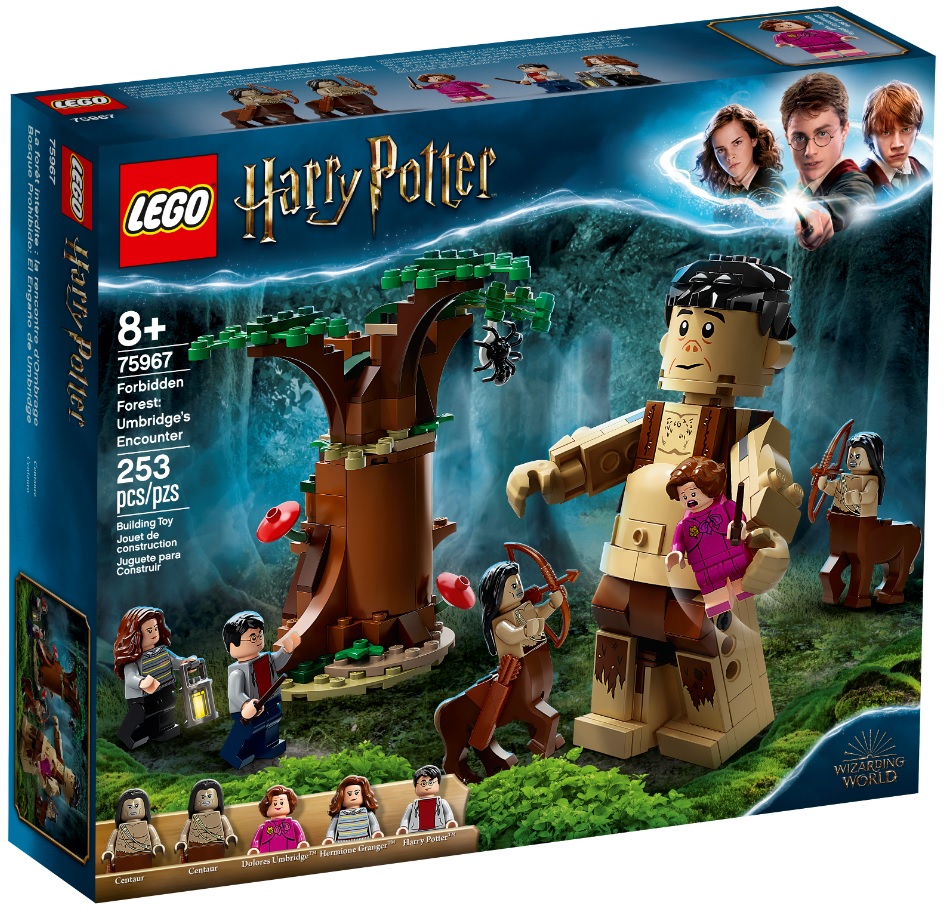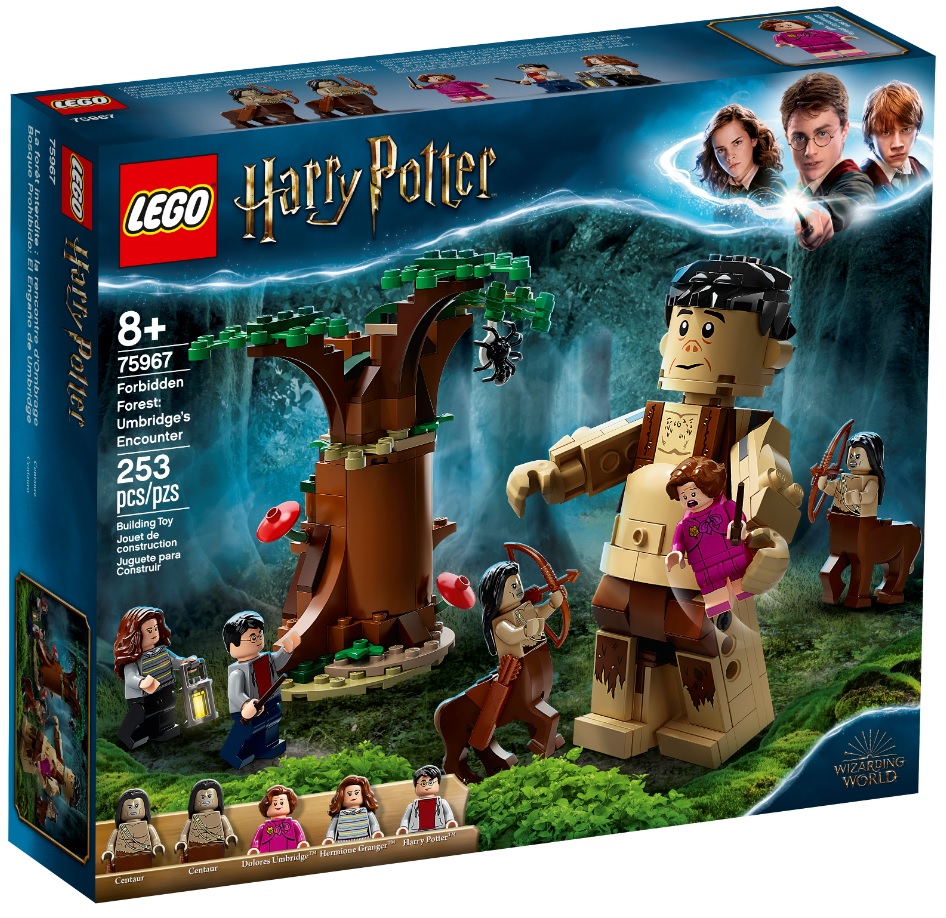 LEGO Harry Potter  4 Privet Drive  (75968)
For children aged 8+
797 pieces
The house measures over 6" (17cm) high, 6" (16cm) wide and 4" (12cm) deep and the car is over 4" (12cm) long. The large scale and authentic detail make this playset ideal for display as well as hands-on play.
Includes 6 minifigures: Harry Potter, Ron Weasley, Dudley Dursley, Vernon Dursley, Petunia Dursley and Dobby.
69.99 €/$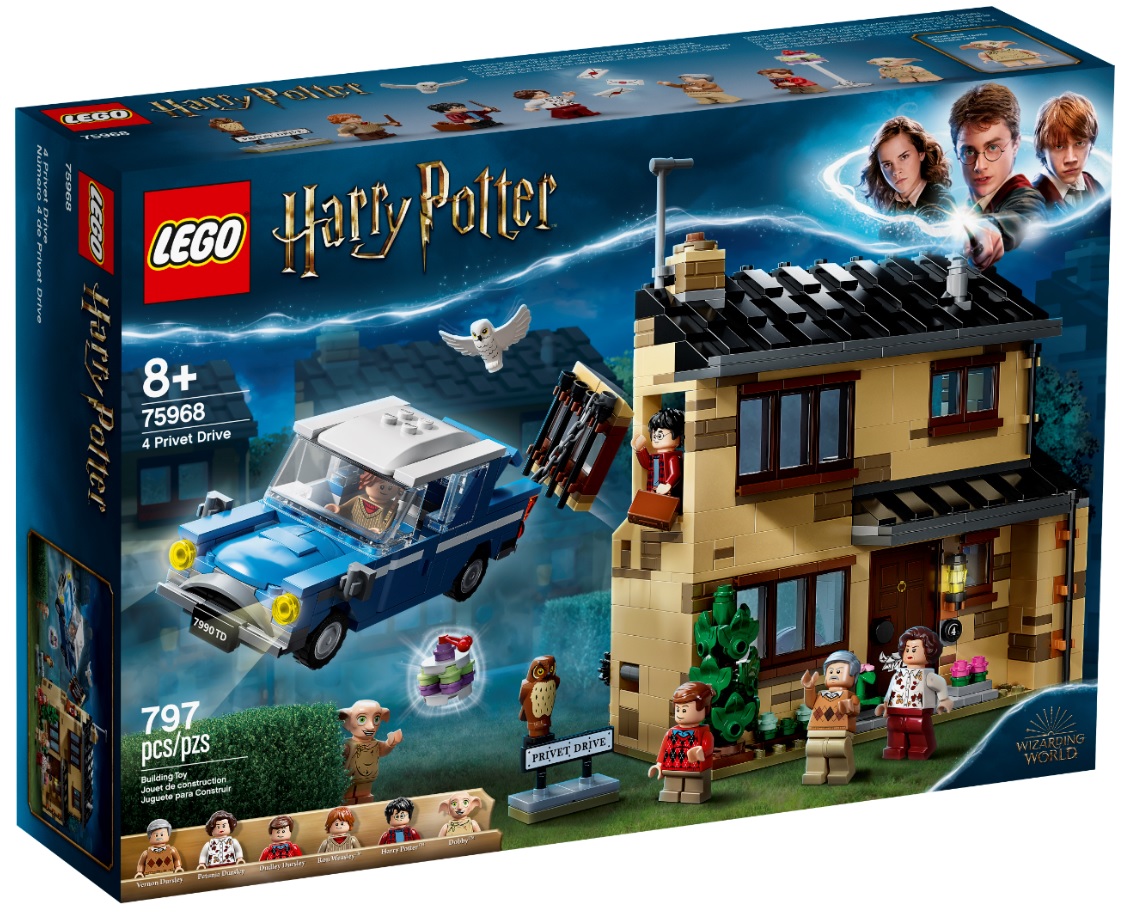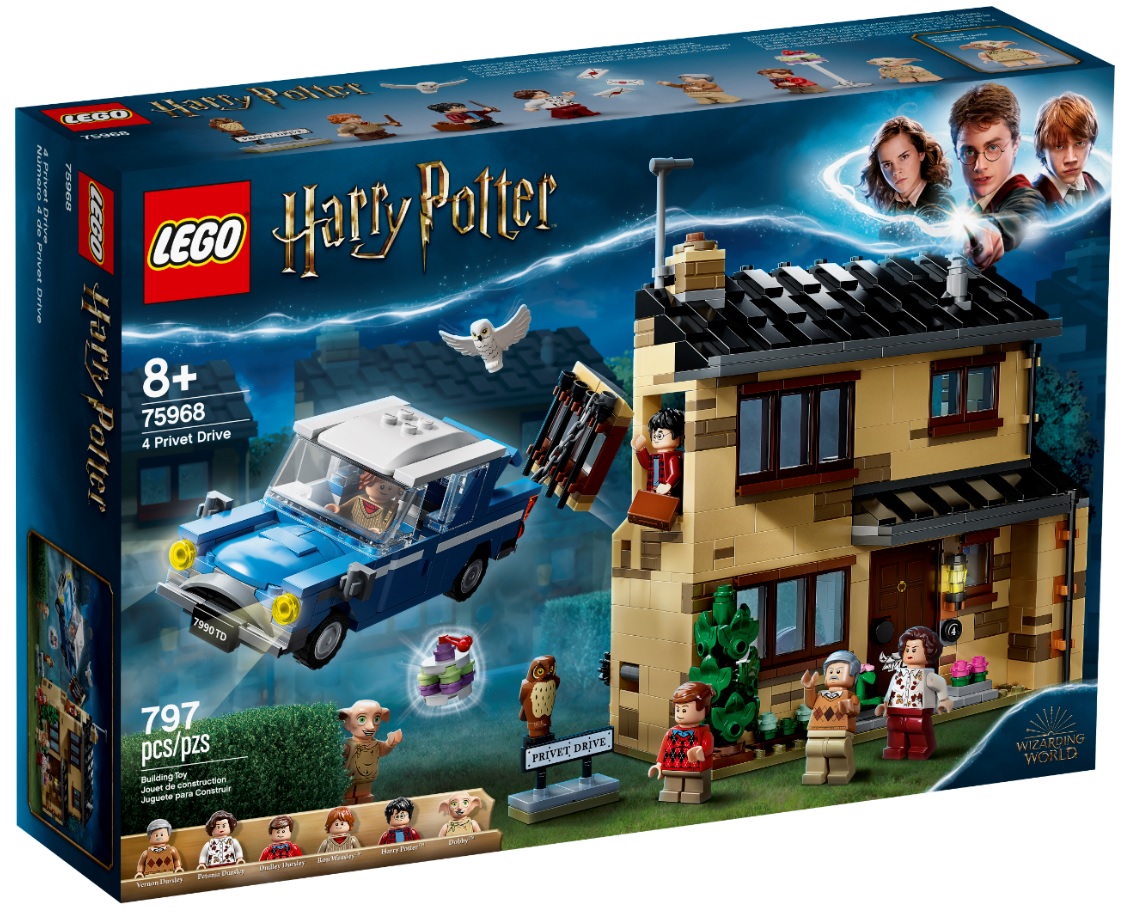 LEGO Harry Potter  Hogwarts Astronomy Tower (75969)
For children aged 9+
971 pieces
The model measures over 15" (40cm) high, 11" (29cm) wide and 6" (17cm) deep and connects seamlessly with LEGO® Hogwarts™ sets 75953, 75954 and 75948.
Includes 8 minifigures: Harry Potter, Hermione Granger, Horace Slughorn, Luna Lovegood, Neville Longbottom, Ron Weasley, Lavender Brown and Draco Malfoy.
99.99 €/$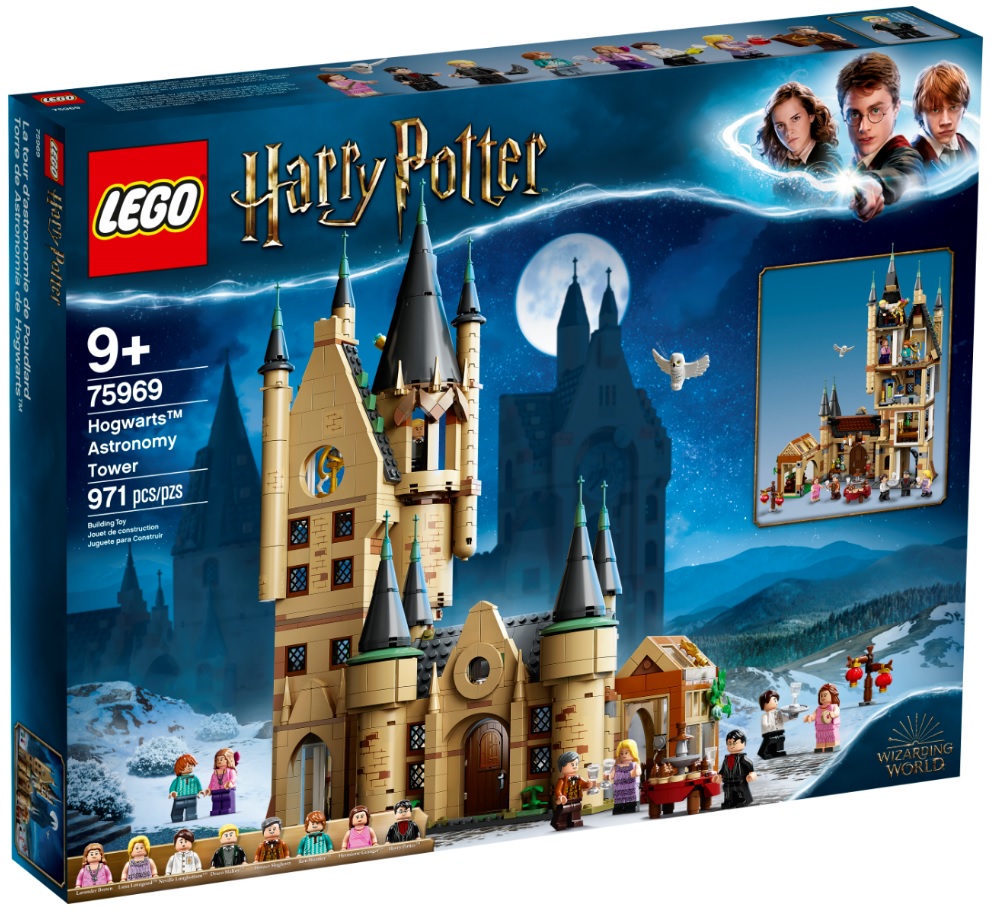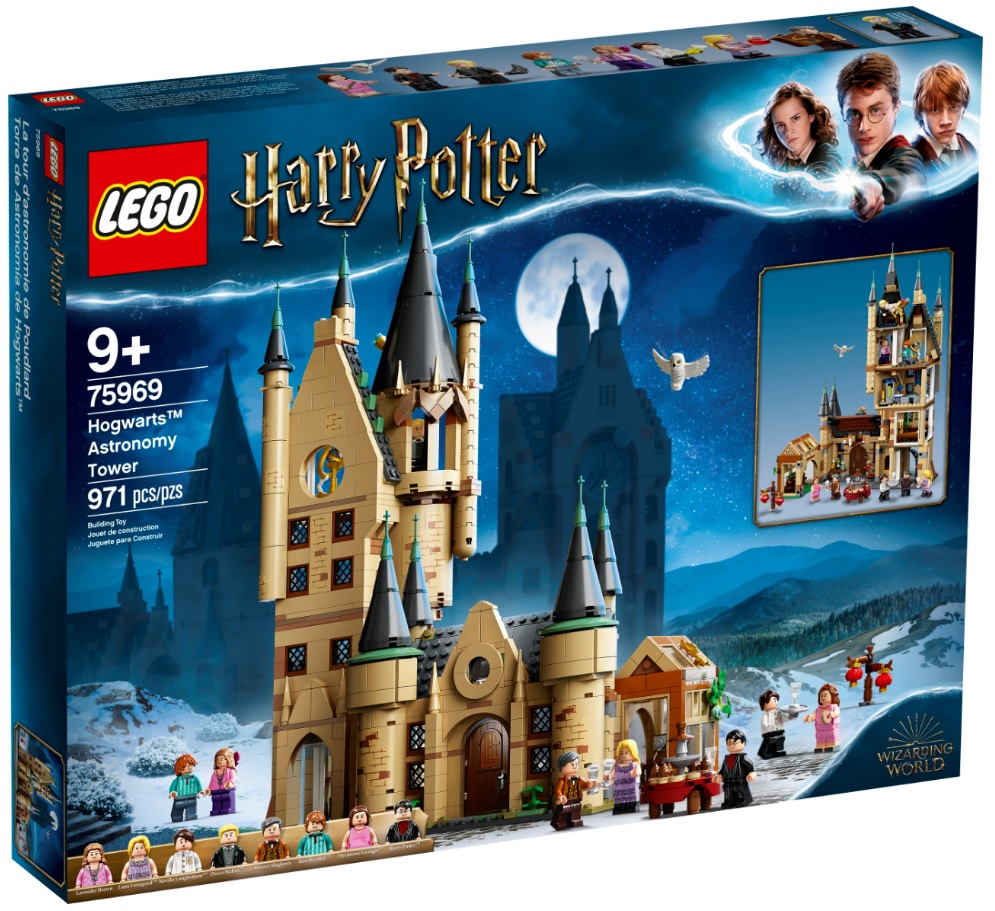 LEGO Harry Potter  Hedwig (75979)
For children aged 10+
630 pieces
With a wingspan of over 13" (34cm) and a beak-to-tail measurement of over 7" (20cm), this mechanical Hedwig™ collectible LEGO® set makes an impressive display that is sure to be the center of attention.
39.99 €/$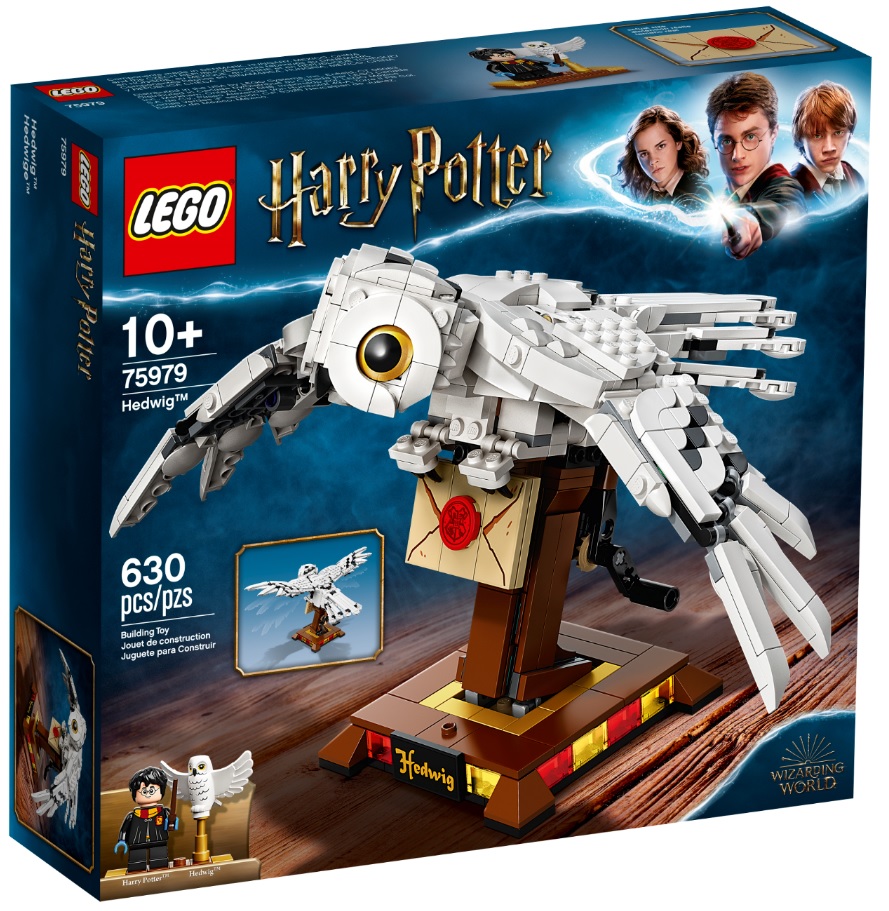 LEGO Harry Potter  Attack on The Burrow (75980)
For children aged 9+
1,047 pieces
The Weasley family house measures over 13" (34cm) high, 8" (22cm) wide and 7" (18cm) deep.
Includes 8 LEGO® minifigures: Ron, Ginny, Arthur and Molly Weasley, Nymphadora Tonks, Bellatrix Lestrange, Fenrir Greyback and Harry Potter
99.99 €/$
Toys N Bricks is your destination for the latest and hottest LEGO News, Sales News, Creations and Reviews! (www.toysnbricks.com)
Subscribe by Email and Follow Us on Facebook, Twitter, Instagram and Flickr