The Target exclusive 76199 Spider-Man LEGO Marvel Super Heroes Carnage Bust Helmet 2021 will also be available for purchase at LEGO Shop at Home (USA | Canada | UK | Australia). Price will be $59.99 USD / $79.99 CAD / £54.99 GBP / $89.99 AUD. Release date is different depending on your region. For North America, release date is April 11, 2021. Those living in Europe, UK and Australia will see the set being released on May 1, 2021. The LEGO Spider-Man 76199 Carnage Helmet Bust contains 546 pieces and is recommended for those aged 18+. This model measures 7 inches high, 3 inches wide and 5 inches deep. Additional product images can be founded at LEGO Shop at Home by searching 76199.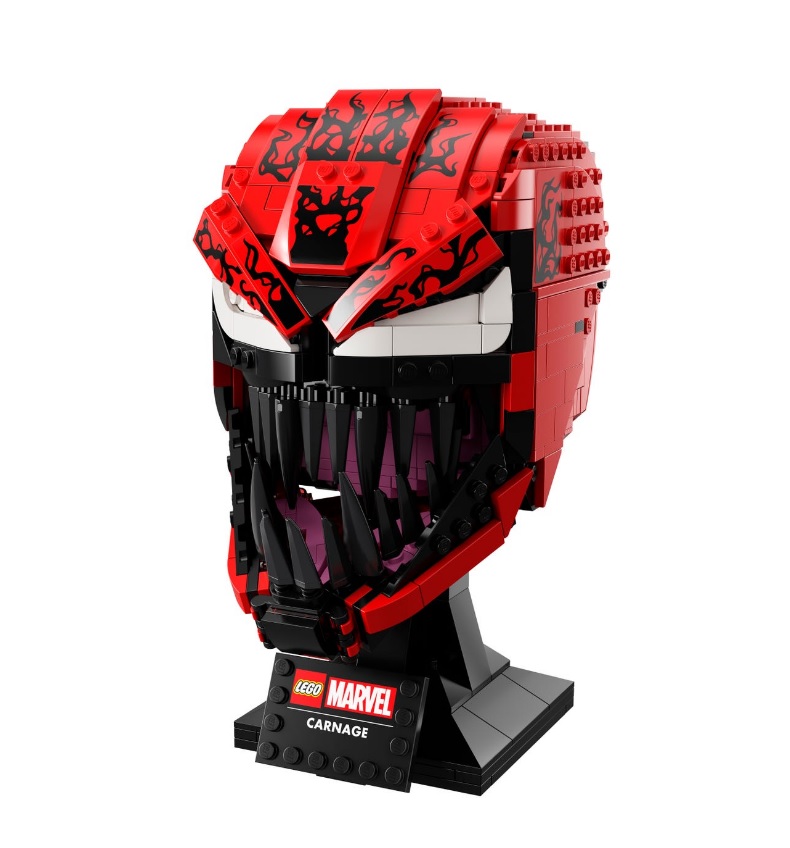 LEGO Spider-Man Marvel – Carnage Helmet Bust Product Description
LEGO® Marvel Spider-Man Carnage (76199) takes your construction skills into the Marvel Universe as you recreate the nightmarish features of the alien super villain.
Authentic details to build and display
From the low, red brow to the protruding jaw packed with bayonet-like teeth, this LEGO brick replica of Carnage provides Marvel movie fans and model-making enthusiasts with a building experience that is challenging yet highly rewarding. With a stylish name plaque attached to the sturdy base, this remarkable model will look even more impressive displayed alongside other LEGO comic-book creations.
LEGO brick model-making kits
Escape the busy world and rediscover the joy of creative construction with adult LEGO building sets. Satisfying to build and stunning to display, adult LEGO kits make great birthday gifts, Christmas presents and personal treats for anyone interested in model making or comic-book culture.
Construct your own LEGO® brick replica of the merciless super villain Carnage, with LEGO Marvel Spider-Man Carnage (76199).
This 546-brick project captures all the monstrous alien's authentic details – from its low, red brow to its bayonet-like teeth – and stands on a sturdy base with a stylish name plaque attached.
The satisfaction of a job well done will last long after the hands-on construction of this collectible piece of Marvel memorabilia is completed.
This build-and-display iconic super villain is the perfect project for adult Marvel movie fans and model-making enthusiasts.
The finished model measures over 7 in. (19 cm) high, 3 in. (9 cm) wide and 5 in. (15 cm) deep and provides a fascinating conversation starter, whether displayed in your home or workplace.
This premium display model provides a stress-relieving diversion for model makers as Carnage gradually emerges from the LEGO® bricks.
High-quality, printed instructions are included to ensure you can embark on this fascinating construction project without delay.
The range of LEGO® sets created with adults in mind are designed to deliver a satisfying build-and-display experience that will captivate any model-making enthusiast.
LEGO® building kits meet rigorous industry quality standards to ensure they are consistent, compatible and connect and pull apart perfectly every time – it's been that way since 1958.
LEGO® components are dropped, heated, crushed, twisted and analysed to make sure they meet stringent global safety standards.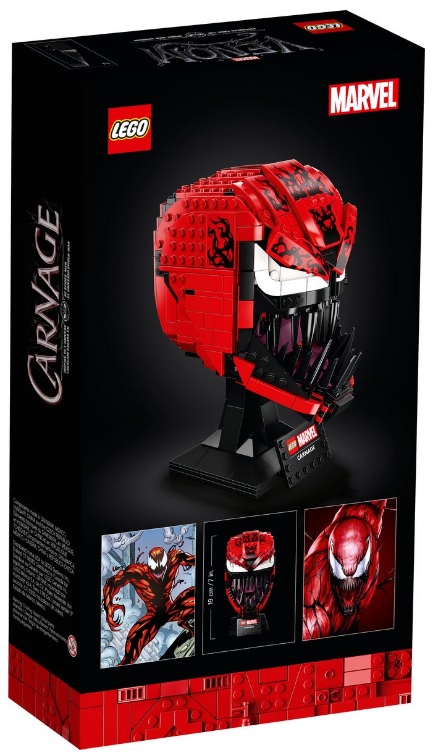 Toys N Bricks is your destination for the latest and hottest LEGO News, Sales News, Creations and Reviews! (www.toysnbricks.com)

Support Toys N Bricks by Buying Toysnbricks Branded Merchandise at ShopToysnbricks.com.
Subscribe for Free by Email and Follow Us on Facebook, Twitter, Instagram and Flickr.
Follow and like Toys N Bricks: