Update: We received a question regarding where you can see the size chart for US online purchases. You can click on the "size chart" when you are in the T-shirt product itself. There are different metric measurements available depending on the size of the shirt. Its not going to be as good as visiting a brick and mortar store where you can try it on. But for those that do not have a Uniqlo nearby, this sizing chart would probably be your best bet.  See image below.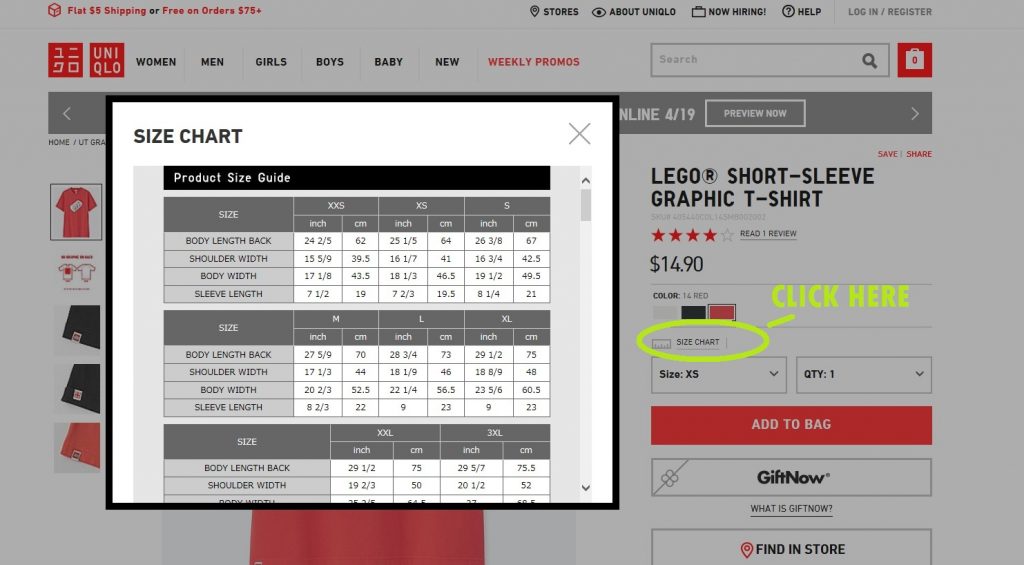 Uniqlo, a Japanese clothing retailer is now selling LEGO Graphic Short Sleeve T-Shirts. These LEGO clothing products are made to celebrate the 60th anniversary of the iconic LEGO Minifigure.
For those living in America, adult shirts are priced at $14.90 each while boys shirts are priced at $9.90 each. Available in-stores and online. Flat $5 shipping or free shipping on orders above $75.
For those living in Canada, they are priced at $19.90 each and are available for purchase in-stores only. They are also available at various worldwide Uniqlo locations as well. Pricing and availability can vary depending on your country and location.