The newest edition to the LEGO Star Wars Ultimate Collector Series, 75060 Slave I is currently being unveiled at BickCon in Seattle, WA. If you can't make it there tonight, we've got the full press release right here. We've seen most of the pictures already earlier this month, but the press release does contain a youtube designer video along with a few additional images.
The set will be available for sale at LEGO Shop at Home and LEGO Brand Stores beginning January 2015. Additional pictures available on our Flickr Photostream.
75060 Slave I™
Ages 14+. 1,996 pieces.
US $199.99 – CA $229.99 – DE 199.99€ – UK £169.99 – DK 1699.00 DKK
*Euro pricing varies by country. Please visit shop.LEGO.com for regional pricing.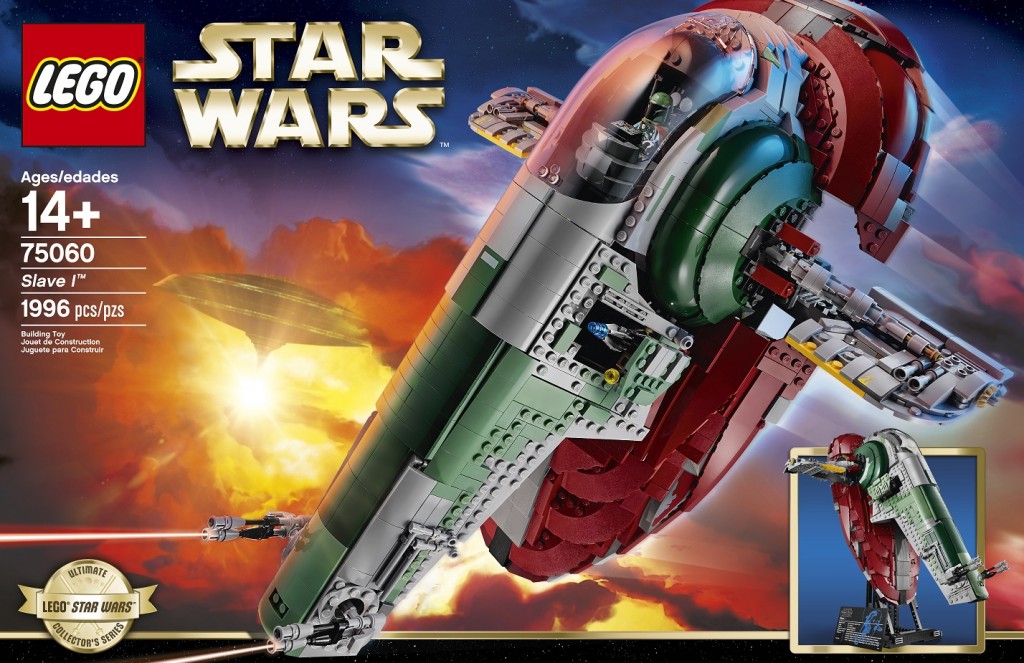 Lift off for bounty-hunting adventures in the Slave I!
Search the galaxy for fugitives with Boba Fett and his Slave I with rotating cockpit and wings, dual shooters and a display stand.
Track down fugitives with legendary bounty hunter, Boba Fett aboard the powerful Slave I! This exclusive LEGO® Star Wars model features a rotating cockpit and wings for flight and landing mode, plus dual shooters and hidden blasters to repel attackers. Reenact the capture of Han Solo in Star Wars: Episode V The Empire Strikes Back and take off from Bespin with the carbonite-imprisoned Rebel hero in the cargo hold. Attach the stand to display this iconic ship in characteristic upright flight. Includes 4 minifigures with weapons: Boba Fett, Bespin Guard, Stormtrooper and Han Solo.
Includes 4 minifigures with weapons: Boba Fett, Bespin Guard, Stormtrooper and Han Solo
Also includes Han Solo in carbonite!
Features a rotating cockpit and wings, opening side hatches with hidden guns and missiles, 2 rotating dual shooters, cargo hold and a display stand with data sheet
Weapons include special blaster pistol for Boba Fett, blaster pistol for Bespin Guard and a blaster rifle for the Stormtrooper
Boba Fett and Bespin Guard minifigures are unique to this set
Rotate the cockpit and wings for flight and landing mode
Place carbonite-imprisoned Han Solo in the cargo hold
Open the side hatches to unleash missiles from the hidden guns
Showcase the huge Slave I in upright flight on the display stand
Recreate classic scenes from Star Wars: Episode V The Empire Strikes Back
Measures over 7" (20cm) high, 17" (45cm) long and 14" (37cm) wide in landing mode
Youtube Designer Video for 75060 Slave I