Forum member grogall has posted pictures for 2 of the upcoming Summer 2013 LEGO Lord of the Rings sets! These sets are also listed on the Kmart USA website with product descriptions, prices and additional pictures. Thanks to Dennis and forum member FenrisAkashi for the heads up.
LEGO 79008 Pirate Ship Ambush
756 pieces, $99.99 USD
Ambush the Sauron Army from the Pirate Ship with dungeon, crossbow, anchors, sails, Corsair detailing and 9 minifigures!On the shores of Minas Tirith, Sauron's Mordor Orcs prepare to greet their allies aboard the Pirate Ship – but all is not as it seems. Pull up alongside them, drop the anchors and lead a surprise attack with Aragorn, Gimli, Legolas Greenleaf and the Army of the Dead. This majestic Corsair ship features 3 large sails, removable rear section with dungeon and Pirate of Umbar prisoner, firing crossbow and loads of armor and weapons! Capture the Orc catapult and lead the glow-in-the-dark King of the Dead and his soldiers into battle at the War of the Ring! Includes 9 minifigures with weapons and accessories: Aragorn, Legolas Greenleaf, Gimli, 2 Mordor Orcs, the King of the Dead, 2 Soldiers of the Dead and a Pirate of Umbar.
LEGO 79007 Battle at the Black Gate
656 pieces, $59.99 USD
Take on the forces of Sauron in a Battle at the Black Gate, with opening/locking doors, secret entrance, 5 minifigures and a Great Eagle!
Fly the Great Eagle high above the Black Gate of Mordor where Aragorn and Gandalf the White must distract the Eye of Sauron. Use them to stage a scene while Frodo Baggins and his friend Sam throw the One Ring into the fiery depths of Mount Doom and destroy it forever. To reach the Ring's final destination, you must defeat the Mouth of Sauron and the Mordor Orcs positioned high in the spiked gate walls. Then breach the gate and lead the attack on the enemy! Includes a Great Eagle and 5 minifigures with weapons: Aragorn, Gandalf the White, Mouth of Sauron and 2 Mordor Orcs.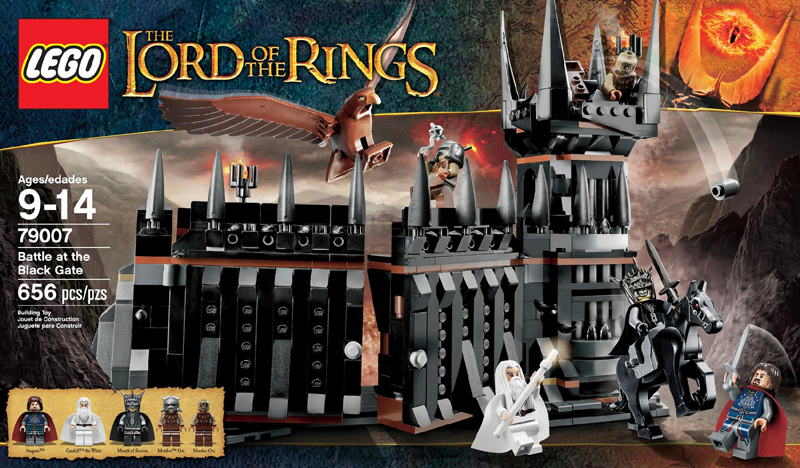 Follow and like Toys N Bricks: