Amazon.com (USA) is now selling select LEGO to other countries. We've listed some of the hottest LEGO products that Amazon ships worldwide for your convenience. Please read our guide completely first so you can get the highest potential amount of savings. Savings examples have been given for both Australia and Canada. If you are from other countries like Singapore, Taiwan, Hong Kong, New Zealand or countries with high MSRP, a similar scenario like Australia would apply.
Australia, Asia & Countries with High MSRP (or countries without Amazon site)
Because the MSRP is usually double of what it is in the United States, you will benefit buying from Amazon. Shipping is quite reasonable as long as you choose the Expedited Shipping option. For example, LEGO Diagon Alley (10% off in USA right now) would cost $134.99 + $19.06 shipping = $154.05 USD. Regular MSRP for this set is $269.99 in Australia. That works out to be 43% off in savings after shipping! *If your country has tax, you will have to pay when receiving your package.
For your convenience, below is a list of recommended products that Amazon.com ships worldwide.
LEGO Online Exclusives
Even for regular priced sets like LEGO Grand Emporium, it would cost only $149.97 + $31.39 shipping = $181.36 USD. Regular MSRP price for this set cost $249.99 in Australia. That works out to be 27.5% off in savings after shipping!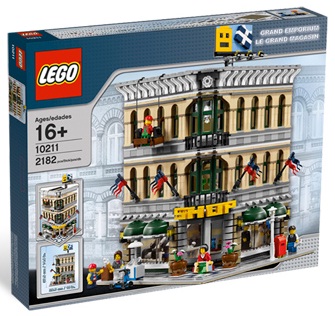 Other Sets
*There are also some more discounted LEGO sets that Amazon ships worldwide under "Recommended Medium Sets" below. The discount % is based on Canadian retail, discount % would be 20-25% off USA retail.
Canada
Although Amazon.com is now shipping to Canada, the drawback is the high shipping fees. Now you may ask where is the deal then? You may all be rushing to buy big expensive sets, but I hate to tell you this, the deal is not there for Canadians. If you buy expensive sets, the only shipping option Amazon gives to you is Priority (2 days shipping) which is cracy expensive. Its unforunate that Amazon offers Expedited shipping options for almost every other country except for Canada. As a result, shipping to Canada cost 2-3 times more expensive compared to shipping to Australia.
Taxes
As stated in their info section, Amazon will charges you import fees in advance. You should not have to pay customs/taxes when receiving your package.
Shipping
Due to the high shipping rates, the best shipping deals are actually in medium ($19.99-$34.99 USD / $24.99-$44.99 CAD) sets. As long as you order sets roughly below $34.99 USD, Amazon will give you cheap shipping options (Standard or Expedited). Shipping 10 Earth Dragon Defense sets for $31.87 is a lot more reasonable than shipping 1 Maersk Train for $67.87! Note however that there is still a fixed fee on shipping. (i.e shipping 1 item cost $10, shipping 2 items cost $11) Therefore, your average shipping cost would decrease if you buy more.
The Deal
Now that we got the shipping business out of the way, the only way you can benefit order from Amazon is getting sets that are already discounted. Otherwise, you'll just end up getting your product a few % off Canadian retail after shipping (i.e Mindstorms NXT 2.0).
Also, you will need to buy multiple items to lower the average shipping cost per item. We will use the Spongebob Glove World set and Standard Shipping option as an example. Shipping for 1 Glove World set $8.69. Total shipping for 2 Glove World sets is $9.38. Total shipping for 3 Glove World sets is $10.08. (Marginal Cost is $0.7 for each additional unit) This means that your actual savings would depend on how much you buy. 1 Glove World ($15 + $8.69 = $23.69) would mean you save 21% off retail. 2 Glove World sets ($30 + $9.38 = $39.38) means you save 34.4% off retail. 3 Glove World sets ($45 + $10.08) means you save 39% off retail. 4 Glove World sets ($60 + $10.78) means you save 41.1% off retail.
The point of the example is don't just buy 1 set as that would have a very high shipping cost. You should buy at least 2 sets to make the deal worth it. The magic number would be 2-4 sets. For your convenience, below is a list of the current sales for medium sets happening right now. (a similar shipping cost structure like Glove World applies to these sets too)
Recommended Medium Sets (% discount based on Canadian retail)