Update: Forum member fouzie from the Indonesia reports getting charged by brokerage fees.
Forum member ricefields has received his LEGO order from Amazon France and there's some good news to report on brokerage fees and customs! The bad news is that you may get a damaged LEGO box because of the amount of shipping travel.
LEGO Cargo Train €109,45 Listed Price
After 16.4% Tax Discount: €91,15
Shipping: €10,59
Total in Euro:  €102,1
Total in CAD/USD: ~$140.89 (reg.$239.99)
Thats 41% off in savings for Canada or 23% off for US!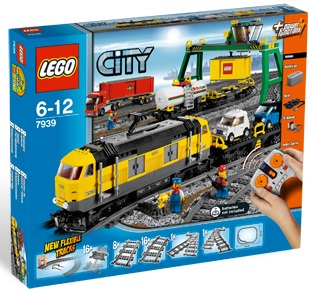 No Brokerage Fees
We can now 100% confirmed there will be no additional brokerage fees for Canada as Canada Post (not UPS, Purolator, etc) is the carrier that takes over packages from Amazon France. This probably applies to other countries as well.
Customs/Taxes
Forum member ricefields also did not get charged by customs/taxes. The customs/taxes could be luck, but even if they did charge it, the deals at Amazon are still worth it because we get  16.4% Euro tax discount on all of their items already. This will pretty much pay back for Canadian Customs (i.e 13% for Ontario, 12% for BC, 5% for Alberta) if they do decide to charge it. Customs aren't that bad as it is the same tax we all pay when buying LEGO or other goods from our local retailers.
Now that the worries regarding brokerage fees/customs are out of the way, you can start shopping for great deals from the Amazon France's LEGO Bestsellers List!