February 23 Update: Fire Temple is sold out at the £49.99 price.
Looking for a great LEGO deal on Ninjago? Forum member brickity informs us that Amazon UK right now has an irresitable 46% off deal on 2507 LEGO Ninjago Fire Temple for £49.99 (reg.£91.99). As always, extra 16.7% off tax discount if you live outside of Europe.
If you are from US/Canada, this effectively works out to be £46.61 after shipping and tax discount. Thats roughly ~$72 USD (reg.$119.99 USD) which is 40% off!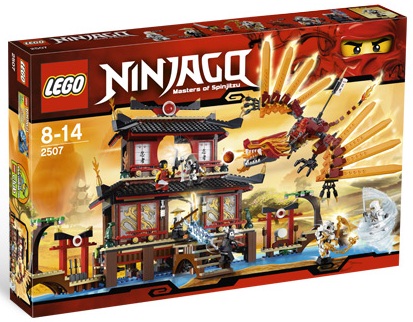 Price for a Ninjago Fire Temple
US/Canada: £41.66 + £4.95 = £46.61
Outside of Europe: £41.66 + £22.58 = £64.24
Europe: £49.99
Shipping Rates at Amazon UK
US/Canada: First Item £4.95, Additional Items £2 each
Outside of Europe: First Item £22.58, Additional Items £1.59 each
Europe: Free shipping on orders above £25
United Kingdom: Free shipping with no minimum purchase
You can check their LEGO Sales List for more great deals. Note that not everything ships outside of Europe. Lastly, remember to always factor in shipping and currency coversion (if applicable) first!