November 28 Update: Added Sears LEGO Black Friday sale.
Canada usually doesn't have "Black Friday Sales" during this time, especially since Canada's Thanksgiving Holiday was last month on Monday, October 13. However, in an attempt to match the deals in America, Canadian retailers will also be offering their own 2013 Black Friday LEGO Sales. Unfortunately, they are very weak and there aren't many LEGO products discounted.
The only deals worth mentioning would be the half price Hobbit Attack of the Wargs set for $29.97 (reg.$59.99) at Toys R Us Canada and the Brick Buckets at Wal-Mart for $20 (reg.$39.99). Though, if you do plan on heading down to the States, Wal-Mart USA has the exact same item for $15 USD.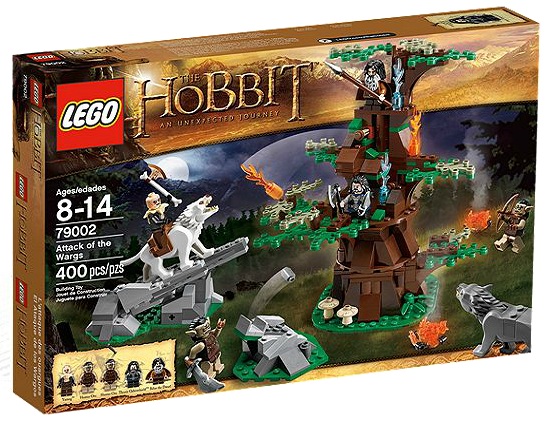 The Real Canadian Superstore
No Tax on Most Items instore (Friday-Saturday only)
40% off Lord of the Rings Attack on Weathertop, Monster Fighters Crazy Scientist and His Monster
25% off Star Wars AT-TE, Star Wars Homing Spider Droid, Ninjago Kraang's Lab Escape and more
Additional savings with coupon codes: 941612262 $10 off $100 or more, 941612265 $20 off $200 or more, 941612283 $50 off $500 or more
Valid online only until Cyber Monday, December 2, 2013 or while supplies last
Check their Black Friday LEGO Savings Page for more items on sale
Target
Free $15 Target Gift Card with $75 Purchase (Friday only)
50% off: Hobbit Attack of the Wargs $29.97 (reg.$59.99)
50% off: Hobbit Goblin King Battle $64.97 (reg.$129.99)
50% off: ALL $19.99 Chima Speedorz
40% off: Select LEGO sets (ad shows Hero Factory Bulk, Hero Factory Stormer XL, Creator Highway Pickup, Galaxy Squad Vermin Vaporizer, Galaxy Squad Obliterator)
20% off ALL LEGO SpongeBob, Lone Ranger and Galaxy Squad
15% off select Chima and Super Hero Sets
Free LEGO Chima Leonidas Jungle Dragster polybag when you spend $30 on any LEGO sets
Free $10 collectible savings card with any Star Wars purchase
Wal-Mart
50% off: LEGO 4627 Fun with Bricks Bucket 85 pieces, Duplo $20 (reg.$39.99)
50% off: LEGO 4628 Fun with Bricks Bucket 600 pieces, Regular $20 (reg.$39.99)

LEGO Stores and LEGO Shop at Home (Brick Friday Deals)
FREE Limited Edition Holiday Set with purchase of $99 or more
FREE $10 Gift Card with purchase of $149 or more (online only)
FREE Shipping on all orders (no minimum)
Receive a Free THE LEGO® MOVIE™ poster sticker to customize your Palace Cinema. (valid until December 31st)
FREE Exclusive Clone Trooper™ Lieutenant with LEGO® Star Wars™ purchases of $50 or more! (valid until December 31st)
*For the list of sales items, please visit our LEGO Black Friday 2013 Sales Forum