Children from around the world use LEGO Technic pieces to move the world's biggest hauler. See below for the LEGO press release.
Billund, Denmark (September 15, 2021) – On 12th June this year, 35 young engineers from all corners of the world opened up their laptops to join another video call. This call was different though. The bright young minds were waiting with bated breath to see whether they had beaten all odds and cracked a fiendishly difficult task that would outsmart those double their age.
For over three months, four teams of children from the U.S., Sweden, Japan and Nigeria had been collaborating across time differences, language barriers and video calls to solve a challenge of incredible proportions – could they move the world's biggest hauler, a Volvo A60 Articulated Hauler, 50 meters, using only LEGO® Technic™ elements.
The challenge was set by engineering experts from the LEGO Group and Volvo to encourage the young students from FIRST® LEGO® League teams to continue to collaborate and develop their STEM (science, technology, engineering, math) skills and confidence despite not being able to meet in person.
As members of FIRST LEGO League, a global robotics program that prepares students for real-world STEM careers, the children were used to meeting, competing and working together to solve hands on learning challenges, but this was the first time the children had been tasked with collaborating when separated by 20,000 miles.
Each team was sent the 2,193-piece LEGO® Technic™ 6×6 Volvo Articulated Hauler and given three months to find a way to build a prototype strong enough to move the 43,000kg machine, using just the LEGO elements included in the set.
The teams soon worked out they needed to create a pulling force of 10,000 Newton to move the hauler and spent hundreds of hours developing, presenting and refining the prototype . After hours of deliberation and problem solving across borders, the children sent precise blueprints and instructions to the engineers at the LEGO factory who brought their plans to life.
On the day of the challenge, the 35 children watched nervously via livestream as the engineers at the LEGO Group's test center in Kladno set everything up and fired up the children's build ready for action. After their initial attempt at the challenge had to be abandoned after a fire broke out, the teams held their breath as they geared up for their second attempt. The 728,168 LEGO Technic elements used started to whirr, sending signals to 1,920 LEGO Technic Control+ XL motors. Slowly but surely, the hauler's wheels started to move – taking just 30 minutes for the children's creation to pull the hauler along the 50m track.
"It's mind-blowing that children so early in their engineering journey managed complete such a complex engineering task so well. We had to put an additional 45 tons of rocks inside the hauler to make it more of a challenge for them! The motors in the LEGO Technic 6×6 Volvo Articulated Hauler set are designed to move a weight of around 3.6 kg but the Volvo A60H weighs over 11,000 times more than this. Even with my 20 years of experience, I would have felt daunted by the task in hand." said Libor Udržal, Master Builder and Engineer at the LEGO Group.
"The children showed incredible resilience and tenacity. Despite their plans literally turning to ashes on the first attempt, the teams showed that with collaboration, teamwork and a good dose of creativity, you can always find a way to succeed. I would be lying if I said I wasn't moved to tears by the pride and sheer joy you could see from the teams when they realized their hard work had paid off" said Frida Jönsson, Designer at VOLVO.
During the challenge, the young engineers were paired with designers and engineering experts from the LEGO Group and VOLVO who mentored them, supported their STEM development and encouraged them to use their boundless creativity to overcome what may have felt like insurmountable challenges at the time.
"One of the biggest things I learned was that you can achieve a lot more than people would expect, especially when you work with different people with the right ideas. I find it really cool that we managed to complete this [challenge]. This project shows that I can work with other people to create things that make impossible concepts, possible." commented Maya, one of the First LEGO League Students that took part in the challenge.
Research from the LEGO Group found that over 8 in 10 parents (83%) think technology skills will be among the top skills that employers will look for in the future. For over two decades the LEGO Group has been helping children of all ages develop STEM skills and confidence in a fun, playful way with products such as the LEGO Technic Control+ range, LEGO® MINDSTORMS® and LEGO® DUPLO® Coding Express.
The LEGO Technic Control+ range helps children aged 11+ build some of their favorite vehicles, like the Volvo A60 Articulated Hauler, for real using LEGO Technic elements. The easy-to-use LEGO Technic Control+ app then mirrors the cockpit controls of the vehicle to provide a fully immersive play experience that helps children learn about how real vehicles function.
To watch how the children triumphed in the ultimate engineering test, visit: https://lego.com/themes/technic/move-it
A selection of LEGO Technic sets are also available for purchase at LEGO Shop at Home (USA | Canada | UK | Australia).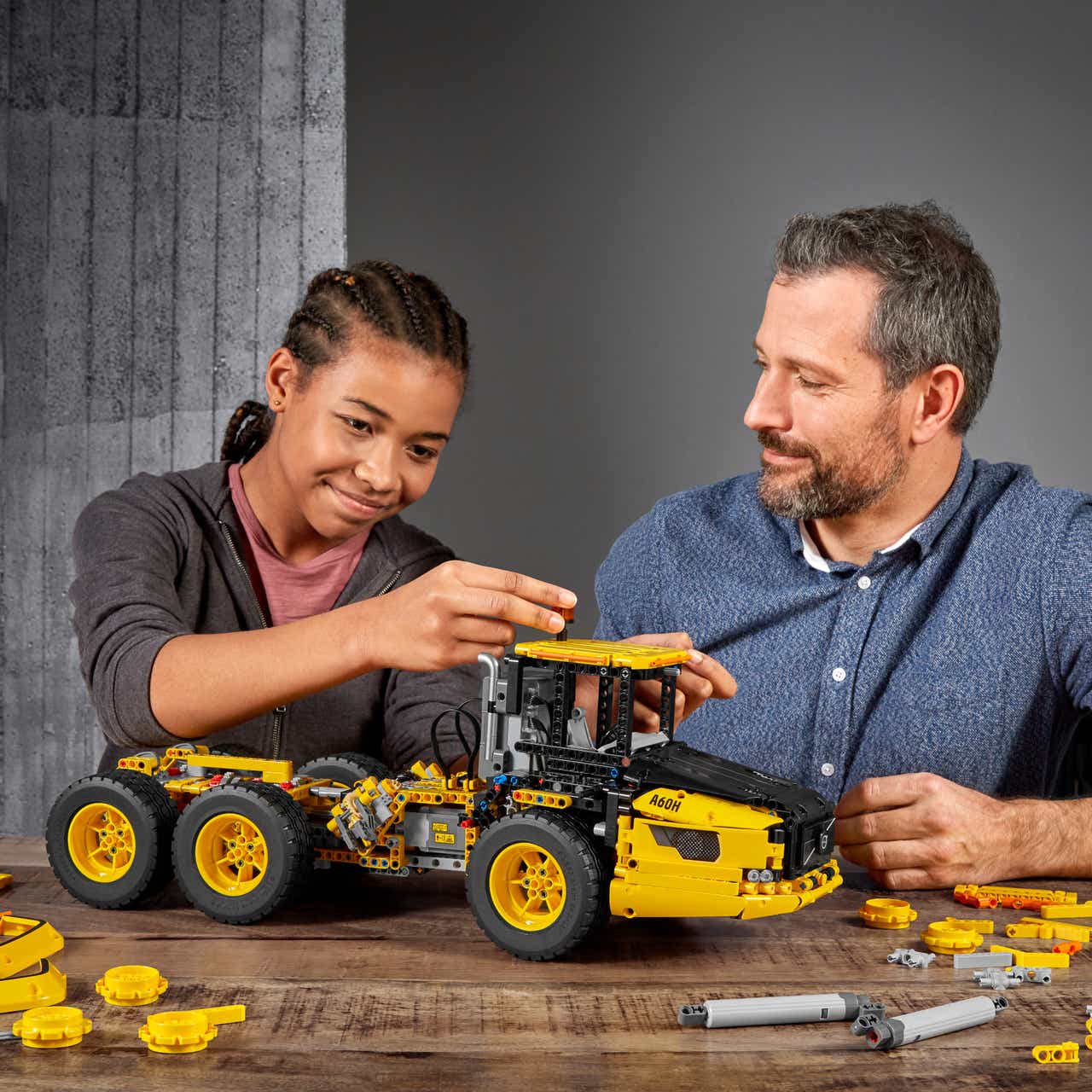 Toys N Bricks is your destination for the latest and hottest LEGO News, Sales News, Creations and Reviews! (www.toysnbricks.com)

Subscribe & Follow: Subscribe for Free by Email and Follow Us on Facebook, Twitter, Instagram  and Flickr.
Support Us Financially: Set up a monthly financial subscription for as low as $3 USD/month.
Buy: Check out Toysnbricks Branded Merchandise at ShopToysnbricks.com.
Discuss: Visit the Toysnbricks Forums for LEGO Discussions. Registration is free.
Follow and like Toys N Bricks: