The December 2020 LEGO Brand Retail Store & LEGO Shop at Home Calendar is now out! There will be 3 promotional gift offers happening. Two of them are available in-stores and online at LEGO Shop at Home (USA | Canada) and one of them is available in-stores only. LEGO Shop at Home (UK | Australia) should have these similar offers as well.
LEGO Promotions & Offers
December 1-24: FREE LEGO 40416 Ice Skating Rink with purchases over $150
December 1-15: FREE LEGO 5006492 VIP Holiday Gift Set with purchases over $40
December 14-24 (In-Stores only): FREE LEGO 30575 Mini Train with purchases over $40

LEGO VIP Sweepstake
December 7-27: Exclusive Paul Bettany Signed "Vision" Picture (50 LEGO VIP Points to enter Sweepstake)
New LEGO Brand Retail Stores
LEGO Store Walden Galleria, NY, USA
LEGO Store Willowbrook Mall, TX, USA
LEGO Store Montgomery Mall, MD, USA
LEGO Store West Edmonton Mall, AB, Canada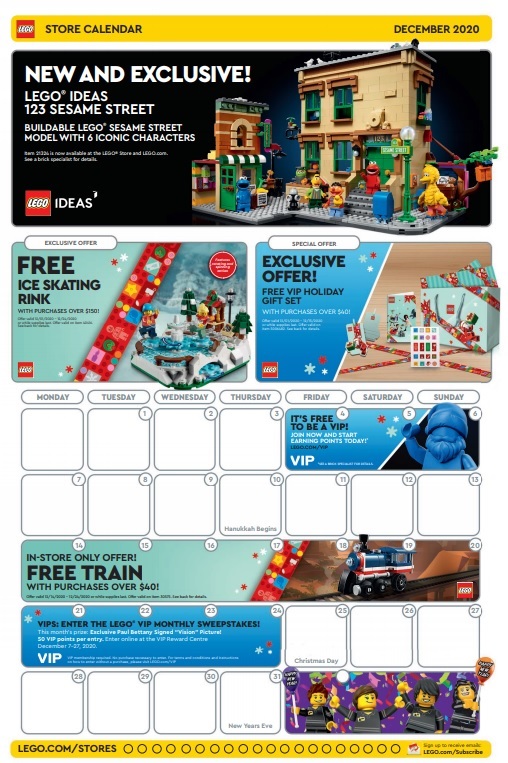 Toys N Bricks is your destination for the latest and hottest LEGO News, Sales News, Creations and Reviews! (www.toysnbricks.com)
Visit the new 2020 Toysnbricks LEGO Forums for LEGO Related Discussions. Registration is free.
Subscribe by Email and Follow Us on Facebook, Twitter, Instagram and Flickr.