The Fan Expo featuring the first ever LEGO Expo in Canada is happening this weekend from August 28-31 (Thursday to Sunday). Pretty exciting for Canadian LEGO fans! We've seen one of the limited edition Star Wars Rebels The Ghost Starship earlier and now, here is the official LEGO press release via FBTB.
LEGO Fan Expo 2014 Canada Press Release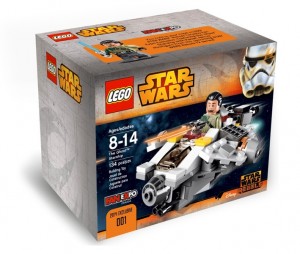 FIRST PUBLIC SCREENING OF BEYOND THE BRICK: A LEGO BRICKUMENTARY TO BE HELD AT 2014 FAN EXPO CANADA
– LIFE-SIZE LEGO® MODELS, EXCLUSIVE PRODUCT OFFERINGS AND ACTIVITIES WILL DELIGHT ATTENDEES OF ALL AGES-
WHAT: Providing the perfect backdrop for on-site filming and interviews, The LEGO Group will feature hands- on activities, life-sized LEGO® models and a film screening for attendees of 2014 Fan Expo Canada.
LIFE-SIZE VISUALS IN THE LEGO BOOTH:
• A wide variety of popular franchises will be showcased via one-of-a-kind, life-sized models made completely out of LEGO bricks by LEGO Master Builders – including Star Wars™, BATMAN™, Guardians of the Galaxy, Teenage Mutant Ninja Turtles™, THE HOBBIT™ and THE LEGO® MOVIE™! Follow the official hashtag #LEGOFanExpo.
ADDITIONAL ON-SITE VISUALS AND ACTIVITIES:
• First public screening of Beyond the Brick: A LEGO Brickumentary:
DATE: Saturday, August 30
TIME: 5:00pm
LOCATION: South Building of the Metro Toronto Convention Centre in Room 701A
LEGO Giveaways (while quantities last) each day from the following franchises:
Friday –Star Wars
Saturday – The LEGO Movie
Sunday – THE HOBBIT
Exclusive LEGO Star Wars The Ghost™ Starship sold only at Fan Expo Canada
Newly launched in Canada try out the LEGO CHIMA FIRE CHI Augmented reality APP
Build your own Super Hero emblem and put it on display for all to see!
Photo station with Smaug from THE HOBBIT on display for limited hours Friday and Saturday. Take your photo for a chance to win two tickets to the movie screening in December!
WHO: The LEGO Group, world's leading construction toy manufacturer
WHEN: Starting Thursday, August 28 at 4pm through Sunday, August 31
WHERE: Metro Toronto Convention Centre, Booth #748