Amazon.fr currently has LEGO City 7939 Cargo Train on sale for €109,45 (reg.€139,9). Savings works out to be 21% off. Keep in mind however that prices can fluctuate anytime. Trouvé une bonne affaire? Laisser le Jouets N Briques personnel sait!
Note: Amazon.fr ships to all Eurozone countries as well as international countries including Canada, Singapore, Australia, Hong Kong and Taiwan. The prices and shipping charges are very reasonable to the point that if you are from Japan, you'll probably end up paying a lower price from Amazon.fr compared to Amazon.co.jp. International countries will also receive 16.4% off the listed price because you do not need to pay VAT (value added tax).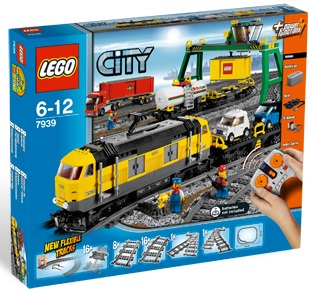 Other European Amazon sites like Amazon.co.uk, Amazon.de, Amazon.it and Amazon.es ships worldwide as well. However, most of their prices are a lot higher and many of their items will not ship outside of the Eurozone. Amazon.fr seems to have the cheapest prices and the most amount of LEGO that can be shipped outside of France.
Recommended LEGO Deals (convert € to your country's currency to see how much you save!)
*Prices shown above do not include the 16.4% VAT discount and shipping charges. Literally speaking, the removal of this VAT pays off the shipping charges (for big sets) meaning you pretty much get the prices shown above. It is also a better deal when you order more as shipping charges only goes up a bit for each new item added. Just keep in mind that you may be subject to customs depending on your country.
For Canada, it appears the best deal is LEGO City Cargo Train as that ends up to be roughly 45% off retail. Thanks to forum member Tomatoe and others for the heads up on this great find!
Tip: We only provided a sample of the hottest LEGO products on sale. For more deals, please check out the LEGO Bestsellers List.