As announced on the LEGO Ideas Blog, The LEGO Ideas Contest Built that Holiday into that Holiday winners have been announced. LEGO Ideas Creation Sailing Ship Adventure by yc_solo will be the next LEGO Gift With Purchase set at LEGO Shop at Home (USA | Canada | UK).
LEGO Sailing Ship Adventure Project Creation Description
Have you ever wanted to travel around the world, sailing away on your own ship on the turquoise waters amongst the dolphins? With this little sailing boat model you could do all that and enjoy a beautiful sunset at sea.
The whole model contains exactly 250 parts. There are 216 parts for the boat (sails and mast: 69; cabin: 24; frame: 123) Then I used up the remaining parts for added features: Dolphins: 9; Palm tree: 16; Minifigures: 8; seagull: 1.
The body itself is buildable, composed of slope elements and lateral curved plates joined at their extremeties; this allowed to maximize inner space, add a wooden floor and a sturdy support for the mast. Sails are also brick-built. The cabin can be removed to show the inner rest space. Sails can rotate, just make sure you untie the ropes first! An anchor and a few gold elements completes the ship.
For minifigures I imagined a romantic pair. That sailor was an immediate participant; as soon as he heard a ship was made, he jumped on board!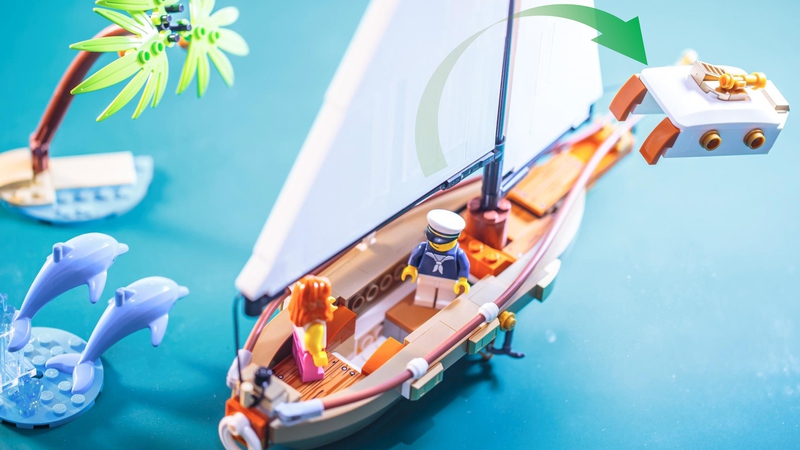 Toys N Bricks is your destination for the latest and hottest LEGO News, Sales News, Creations and Reviews! (www.toysnbricks.com)
Subscribe by Email and Follow Us on Facebook, Twitter, Instagram and Flickr