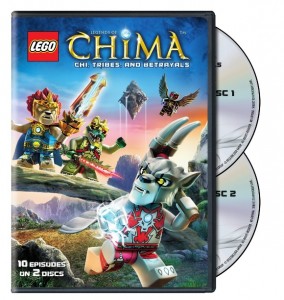 The new upcoming LEGO: Legends of Chima Season 1 Part 2 DVD is coming out this coming Tuesday, July 15th. Both Warner Brothers and Amazon.com has it available for pre-order. Regular price is $19.99, but both of them have it slightly discounted. Warner Brothers has it for $15.39 while Amazon has it for $17.97. The DVD has 10 episodes and lasts for 220 minutes.
LEGO Chima Season 1 Part 2
Once a pristine, natural paradise, the Kingdom of CHIMA has become a battle ground for eight animal tribes. Best friends are now enemies. The animals fight for control of a natural resource called CHI, a powerful element that is both a source of life and potential destruction. Only a few brave heroes in CHIMA understand the true nature of CHI, and the possible downfall of CHIMA that will result from its misuse. Their stories, and the stories of those who seek to destroy them, are known as… THE LEGENDS OF CHIMA.
Now on to the giveaway!
Warner Brothers has kindly donated a copy for us to give away. Fill the raffle form with your name and country of residence (1 entry) to win this DVD for free! Giveaway closes on Saturday, July 19 at 21:00 PST.
You can also receive 2 more entries by liking us on Facebook (1 entry) or following us on Twitter (1 entry). Send us a new raffle entry if you have done either of those. In each entry, please state your Facebook/Twitter username and your country of residence. So if you liked us on Facebook and followed us on Twitter, you would send us two additional raffle entries with the respective Facebook/Twitter usernames.