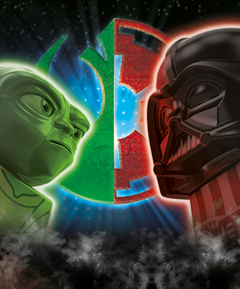 Quebec will see the Grand Opening of its first two LEGO Stores on the same weekend – that of May 23, 24 and 25, 2014! You'll get to participate in an 8′ tall build of Jedi Master Yoda at Carrefour Laval or a 12′ build of Sith Lord Darth Vader at Fairview Pointe-Claire!
Celebrate the grand opening of the LEGO stores at Carrefour Laval and Fairview Pointe-Claire!
Choose your side May 23-25 by joining in the largest LEGO® Master Builder event!
You'll get a LEGO Certificate of Achievement for participating. Plus, visit the LEGO Store during the event for exclusive offers available this weekend only!
Visit the dark side at Fairview Pointe Claire and build a 12-foot tall LEGO® Darth Vader™!
Fairview Point Claire — Central Court
FRI May 23 12PM-8PM
SAT May 24 10AM-5PM
SUN May 25 10AM-4PM
OR join the Rebellion at Carrefour Laval and build an 8-foot tall LEGO® model of Yoda™!
Carrefour Laval — Bay Court
FRI May 23 12PM-8PM
SAT May 24 10AM-5PM
SUN May 25 10AM-4PM