Update: If you are from the United Kingdom of Great Britain and Northern Ireland, some of the sales may apply instores as well.
The Republic of Ireland has quite a few good LEGO sales and LEGO deals going on. Smyths stores in Ireland are also now carrying Team GB minifigures for €2.49. All prices are in EURO.
If you are from the UK or other parts of Europe, online purchases are available for the Argos sale as well as the Malevolence from Smyths for €95.99. After factoring currency conversions to pounds, it works out to be about £75. LEGO Shop at Home sells this for £99.99 in the UK so its 25% off in savings.
Argos Ireland
33% off LEGO Clearances – Instores Only (Valid until July 31, 2012)
Lego space Centre 3368 was 60.99 Now €36.99
Lego City Harbour 4645 was 91.49 Now €51.99
Lego Alien Conquest Alien Mothership 7065 was 62.99 Now €43.99
Lego SW Genosian Cannon 9491 was 24.99 now €14.99
LEGO Sales – Instores + Online
3 for 2 on ALL LEGO Superheroes
Star Wars Droid Escape 9490 – 2 for €40
Lego Spongebob – Free Nickleodeon Scratch Card (don't know what you get)
Lego Friends – Collect 4 Stickers send off for free gift
Art & Hobby Ireland – Instores Only
25% off Large Lego sets over €75.
Batcave 6860 – €60
Older Star Wars sets available – stock varies from shop to shop
Smyths Ireland – Instores + Online
20% off – 9515 The Malevolence €95.99  – Down from €119.99
Team GB Minifigures Now Available for €2.49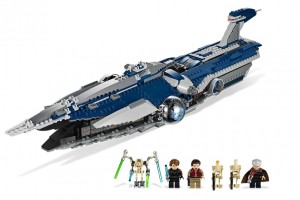 Visit our LEGO Sales Europe Forum for discussions. Thanks to forum member fanjo for the heads up on all these Ireland sales.