LEGO had sets and toys for girls in the past, (LEGO Belville) however, it was only really in 2012 when LEGO succeed in capturing more of the girls market. With better designs and sets that are desireable, LEGO Friends became one of the hottest toys and "must haves" for girls. This not only helped LEGO to continue its increasing popularity, but it also helped LEGO continue to expand its profits and business portfolios.
Of course, a new launch is often times met with criticisms and challenges. There were issues with gender stereotypes, how LEGO Friends didn't have the traditional LEGO minifigure and many more. In addition, many competitors seeing the significant popularity with LEGO Friends have made similar products such as Mega Bloks Barbie. LEGO though was able to overcome many of these issues through innovation and constant maintaining its highest quality standards from their toys to customer service.
Beginning this year, LEGO has launched a new theme known as LEGO Disney Princess which primarily targets girls. More sets from the popular LEGO Friends line have also been released with focus on interior, allowing lots of playability.
Disney Princess
Six new LEGO Disney Licensed Princess sets have been released ranging from $12.99-$69.99. The sets are built with standard LEGO pieces like LEGO Friends, but you don't get minifigures. Instead, you get mini LEGO dolls as "minifigures". The sets are similar to LEGO Friends, but the theme is different as it focuses more on fantasy with princes and princesses. These new Disney sets certainly look promising and with 2 strong brands together, these sets would most likely sell well.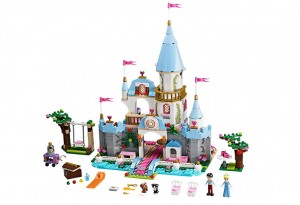 41055 Cinderella's Romantic Castle
41054 Rapunzel's Creativity Tower
41053 Cinderella's Dream Carriage
41052 Ariel's Magical Kiss
41051 Merida's Highland Games
41050 Ariel's Amazing Treasures
Friends
Unlike Disney Princess, LEGO Friends is based more on a typical City life. Eight brand-new LEGO Friends sets have been released in the January wave. All of them can be easily obtained from most of the big box retailers with the exception of 41056 Heartlake News Van. This set is only available at LEGO Shop at Home, LEGO Brand Stores and one big box retailer (either Toys R Us, Wal-Mart or Target). The largest set in this wave is Sunshine Ranch. However, we've received quite a few similar sets like this already including 3189 Heartlake Stables and Toys R Us' exclusive 3185 Summer Riding Camp.
We also get a cool 41035 Heartlake Juice Bar building which would complement existing sets like City Park Café and Downtown Bakery sets. Like previous waves, LEGO has once again produced 3 standard $/£9.99 sets featuring one minifigure. Amazon has them marked up to $11.99, so if you want one of these small sets, your best bet would be to get it directly from LEGO and other retailers.
The best set out of this wave appears to be 41037 Stephanie's Beach House. Priced at $39.99, you get a two story building with lots of play functions. You also get a windsurfer! This would definitely go well with the Dolphin Cruiser.

*2014 January LEGO Friends and Disney Princess sets are also now available for sale at Amazon.com and Amazon.co.uk.