We've seen official images and product descriptions of the 18+ LEGO Bonsai Tree 10281 and LEGO Flower Bouquet 10280 a while back. The official press release along with the designer videos for the sets are now available.
18+ LEGO 10280 Flower Bouquet – 756 pieces (MSRP: $49.99 USD)
18+ LEGO 10281 Bonsai Tree
– 878 pieces (MSRP: $49.99 USD)
LEGO Press Release
Billund, December, 30th, 2020:  Today, the LEGO Group has revealed a new range of mindful models for the green-fingered. The decorative LEGO® Botanical Collection includes a stunning LEGO® Flower Bouquet to brighten the home, and a LEGO® Bonsai Tree for those looking to be more zen in the new year.
While many people seek out green spaces to destress and relax, adults can now bring a touch of nature into their home and unwind as they create and customise their botanical builds….and the great news is that LEGO plants don't need to be watered to stay fresh.
With 7 in 10 adults saying they often research new ways to destress(1) and over 8 in 10 saying play helps them relax(2), the new sets could provide the perfect perennial project for those looking to get creative, destress and find moments of mindfulness in a day.
Both sets in the new LEGO Botanical Collection include a number of elements made from plant-based plastic, produced using sustainably sourced sugarcane.
LEGO Flower Bouquet
Surprise a friend or show yourself some love with a gift that keeps on giving, a beautiful flower bouquet that's anything but ordinary, and won't wilt! The 756-piece set features a host of beautiful blooms in an array of stunning colours that older builders can customise as their flowers flourish.
Whether you're treating a loved one or are looking for a new creative project, the flower stems are adjustable so it's easy to tailor the arrangement to suit any vase. A combination of snapdragons, roses, poppies, asters, daisies, and different grasses can be arranged in the bouquet in a number of ways to suit the mood of the builder and the design of the room.
The set includes a host of LEGO elements that feature new colours and shapes to perfectly recreate petal shapes and make admiring visitors look twice.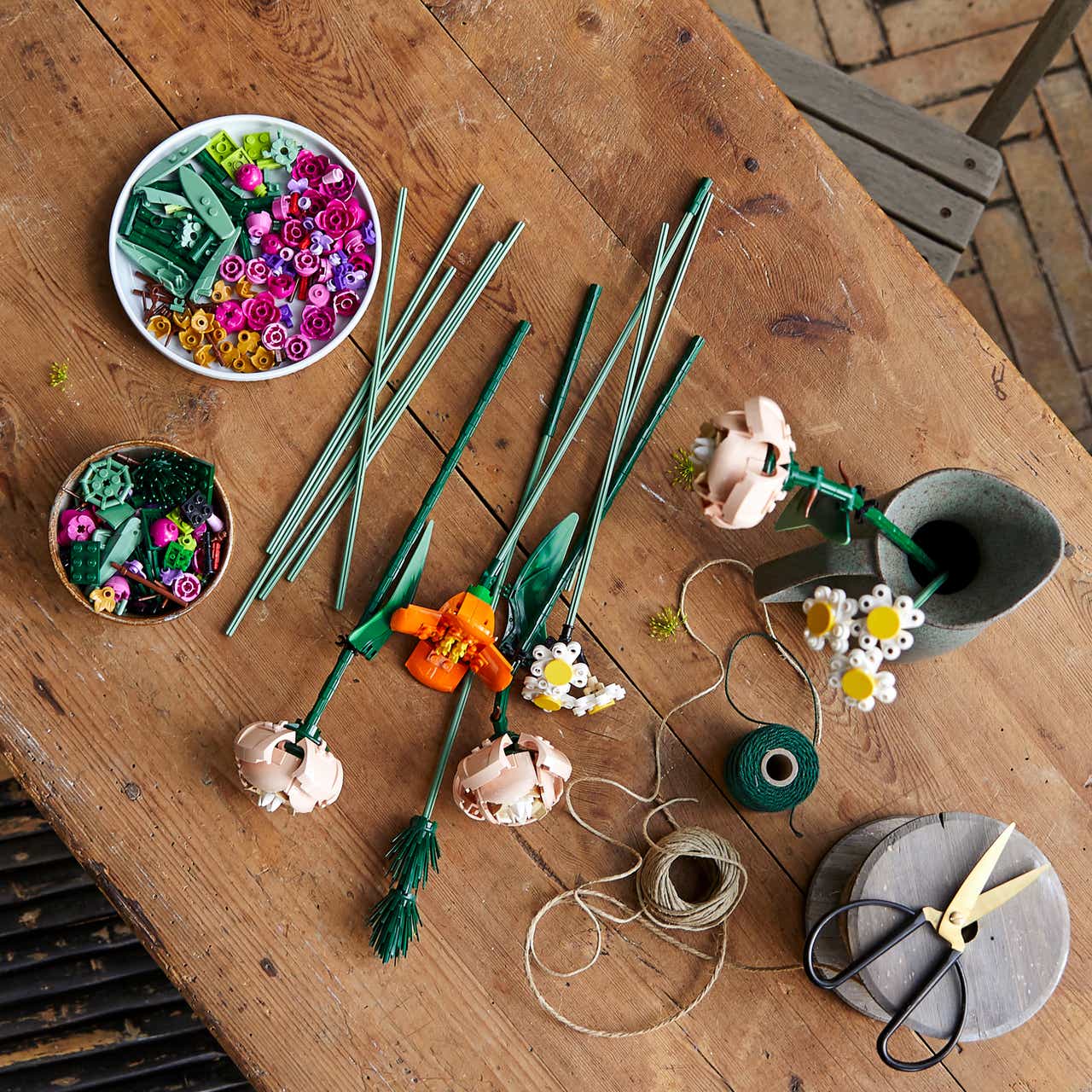 LEGO Bonsai Tree
The art of bonsai has captured the imaginations of tree lovers for centuries. Now LEGO fans or those looking for a new way to relax can celebrate this ancient art with the 878-piece LEGO® Bonsai Tree model building kit.
Builders can enjoy a sense of calm as they carefully shape the bonsai tree model with either green leaves or pink cherry blossoms. When you're ready for a change or when the season starts to turn, it's easy to swap the coloured crowns to create a totally new look.
The LEGO Bonsai Tree model comes with a rectangular pot and a slatted wood-effect LEGO stand, creating a pretty display piece to take pride of place in any home or office. Those who look very closely may even notice the little frogs that make up each blossom.
"As adults look for new ways to switch off and relax, we're delighted to be able to help them seek solace from their busy everyday lives as they immerse themselves in creating these beautiful botanical builds," says Jamie Berard, Design Lead at the LEGO Group. "The customisable elements and mindful building experience will hopefully help them express their personality as their creativity blossoms."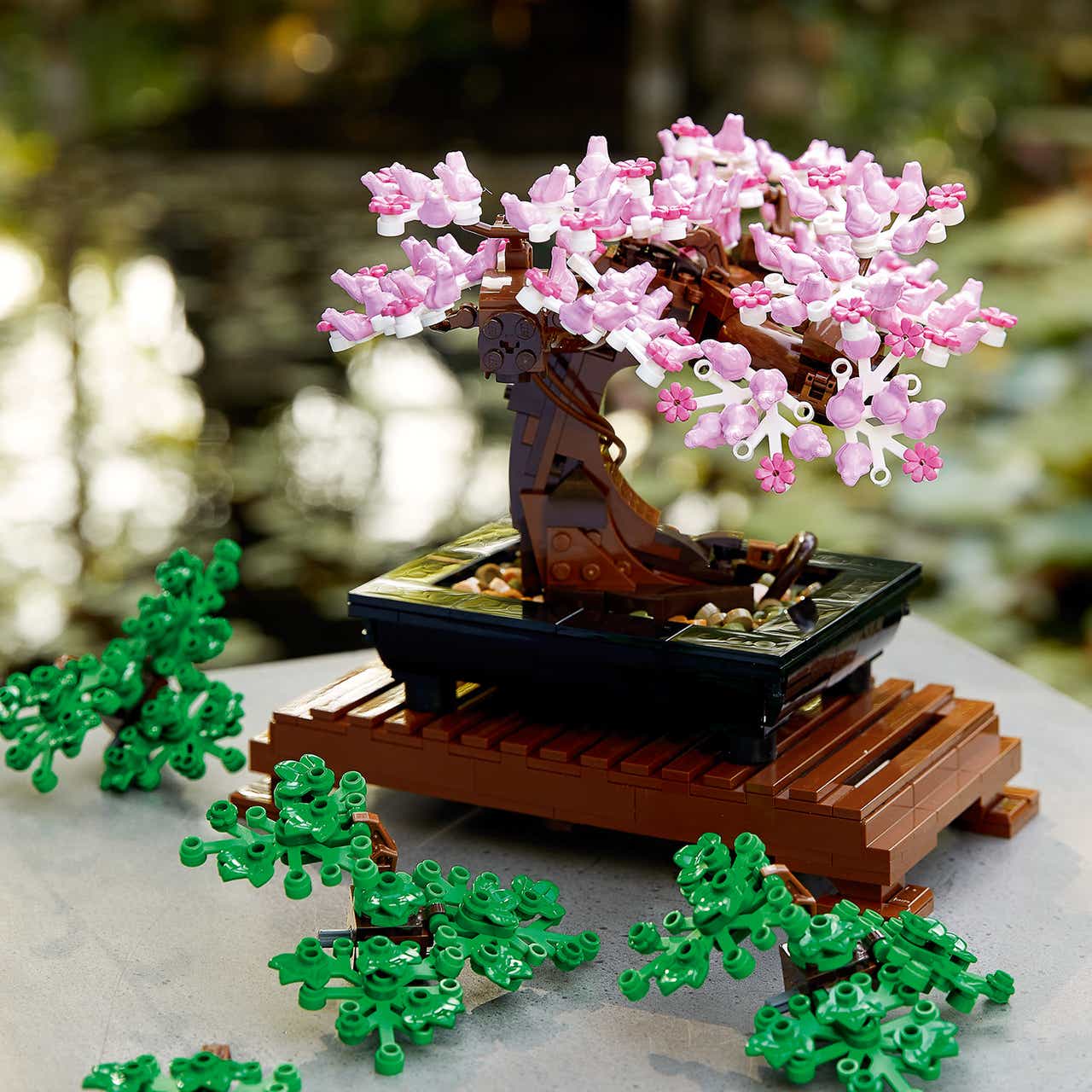 Both sets will be available from 1st January from LEGO Shop at Home (USA | Canada | UK | Australia), LEGO Stores, and other retailers globally.
The LEGO Flower Bouquet blooms can be designed to be over 14 inches (36cm) high, with the set priced from $49.99/€49.99/£44.99.
The LEGO Bonsai Tree stands at 7 inches (18cm) high when complete and is priced from $49.99/€49.99/£44.99. Individual LEGO Roses and LEGO Tulips will be available exclusively from LEGO Shop at Home (USA | Canada | UK | Australia) and LEGO Stores from 1st of January priced at $12.99/€12.99/£9.99 for LEGO Roses and $9.99/€9.99/£7.99 for the LEGO Tulips.
Toys N Bricks is your destination for the latest and hottest LEGO News, Sales News, Creations and Reviews! (www.toysnbricks.com)
Visit the new 2020 Toysnbricks LEGO Forums for LEGO Related Discussions. Registration is free.
Subscribe by Email and Follow Us on Facebook, Twitter, Instagram and Flickr.