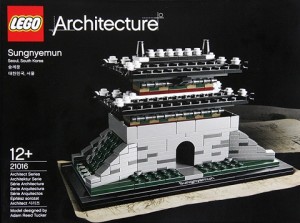 Official Press Release for the upcoming LEGO Architecture 21016 Sungnyemun has been released today! Available for purchase beginning June 1st exclusively at LEGO Company Stores as well as LEGO Shop at Home. Price will be $34.99 / €34.99.
BILLUND, Denmark – LEGO®Architecture, which uses the LEGO brick to interpret the designs of iconic architecture around the world, has added its first Asian landmark – the Gate of Exalted Ceremonies in Seoul, better known as the Sungnyemun.
Sungnyemun has stood in the heart of South Korean capital since 1398 as one of the most complete examples of Joseon Dynasty architecture. It is listed as the country's foremost National Treasure.
"Sungnyemun survives as a symbolic marker of a lost place in time," says the architect and designer of many of the LEGO models Adam Reed Tucker. In capturing the essence of Sungnyemun in LEGO bricks Adam looked at the aesthetics rather than engineering, especially the use of colours, patterns and materials that define the 'spiritual DNA' of a culture.
Construction of Sungnyemun started in 1396 and was completed two years later. Further alterations and renovations continued over the next 600 years. In 2008 the wooden structure was completely destroyed by fire and it is expected that the restoration – using traditional hand tools – will be complete at the end of 2012.
LEGO Architecture products feature well-known buildings, and the work of important architects. Aimed at inspiring future architects, engineers , designers and architecture fans around the world, the range contains a booklet featuring step-by-step building instructions prefaced by history, information and photographs of each iconic building, its design origin, its architect and its architectural features.
The LEGO 21016 Sungnyemun will be launched officially at the Danish Pavilion during the EXPO 2012 exhibition held in Yeosu, South Korea. It will be available for purchase from June 1 in LEGO brand retail stores, LEGOLAND Stores and online at http://shop.lego.com/. The product is designed for ages 12+ and includes a booklet with facts and history about Sungnyemun. Recommended retail price is $34.99 in the US and €34.99 in most European countries.
Follow and like Toys N Bricks: