Forum member peanut kindly provides us with pictures of the limited edition holiday LEGO 3300020 Christmas Tree set (Part 1). There are 98 LEGO pieces in this set along with a LEGO Boy Minifigure. Also note that packaging is a box, not a polybag which makes this set look a lot more valuable.
*The second holiday Fireplace set (Part 2) will be available during Black Friday Weekend in November. Combine the 2 sets (Part 1 + 2) together and you'll get a nice LEGO living room!
Front of LEGO 3300020 Christmas Tree
Back of LEGO 3300020 Christmas Tree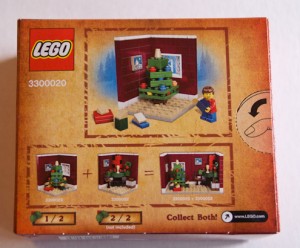 You can get FREE Shipping and this set for FREE at [email protected] (USA | Canada | UK) right now when you spend $99/£50. Don't forget about the Double VIP points offer thats going on right now too! All 3 offers are stackable making this a very nice promotion. Offer ends on October 31st, 2011.
*If you are from Germany, France or Denmark, you can get this set for FREE too. However, there is no FREE Shipping offer.