Besides all the new August 2013 Releases like Star Wars and Friends, LEGO Shop at Home also has this neat little set known as 40057 Fall Scene. It contains 72 pieces and 3 minifigures with a price tag of $7.99 USA | $9.99 Canada | £6.99 UK.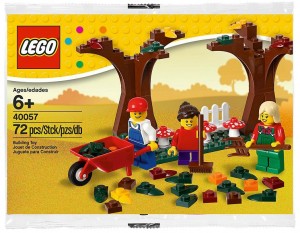 Fall into seasonal LEGO building fun!
Celebrate the change of the seasons with a fun fall build featuring a lawn with 2 fall trees quickly losing their leaves! Three minifigures are hard at work raking the colorful autumn leaf elements from the cute lawn with a wheelbarrow and raking tools. Makes a great seasonal gift for LEGO® fans.
Includes 3 minifigures: 2 women and a man
Features 2 trees, a lawn with a white picket fence, 3 mushrooms, a wheel barrow, raking tools and lots of colorful fallen leaf elements
Build a fun fall scene with LEGO® seasonal décor!
Rake and play with lots of fallen leaf elements and raking tools
Makes a great seasonal gift for LEGO fans
Follow and like Toys N Bricks: