LEGO 40289 Harry Potter Microbuild Diagon Alley is one of the latest freebie promotional set that is released by LEGO. The set contains one actual size Mr. Ollivander minifigure. You can get this set for free right now with a purchase of $99/£80 or more. Valid until November 21, 2018.  Remember that they currently have double VIP points on LEGO Creator Winter Village Fire Station and LEGO Harry Potter Hogwarts Castle as well. Shop Now at LEGO Shop at Home (US | Canada | UK).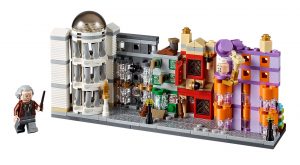 Make sure to check their Sales & Deals pages as new deals have been added. Savings are usually in the 20% off range but could be more sometimes. Sales & Deals: US | Canada | UK
40289 Microbuild Diagon Alley
Recreate the magic of Diagon Alley™ with this magical LEGO® micro build featuring Gringotts™ Bank, Ollivanders™ Wand Shop, Flourish and Blotts, Quality Quidditch™ Supplies and Weasleys' Wizard Wheezes, plus a Mr. Ollivander minifigure with a wand.