Here's a closer look at the LEGO Star Wars poster that LEGO is giving away for their annual "May the fourth be with you" promotion. The 2013 May the 4th Be With You Poster is valued at the prices listed below, however, they are not available for purchase. Instead, you can get it for free when you purchase any LEGO Star Wars set (May 3-4 for UK & Europe; May 4-5 for US & Canada). What do you think about this poster?
LEGOShop: $0.99 US | $0.99 Canada | £3.99 UK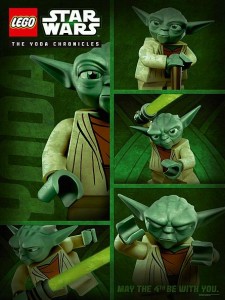 LEGO 5002505 Product Description
FREE Exclusive LEGO® Yoda poster with any LEGO Star Wars™ purchase!
Feel the Force and collect a limited-edition LEGO® Star Wars™ May the 4th Be With You poster! In celebration of Yoda Chronicles, decorate your wall with this cool full-colour design of Jedi Master Yoda in different poses.
Poster measures 24" (61cm) x 32" (81cm)
Poster comes folded