The new LEGO 71001 Series 10 Minifigures will be officially available for sale in most countries worldwide beginning May 1st, 2013. However, it appears Fred Meyer stores in USA are releasing them early as forum member peanut just reported picking up some of these new figures! With only 5000 Mr.Gold minifigure worldwide, this special edition minifigure is definitely going to be very hard to look for.
For those that do not know, Fred Meyer is a supermarket retailer in Northwest Pacific with stores in Alaska, Idaho, Oregon and Washington.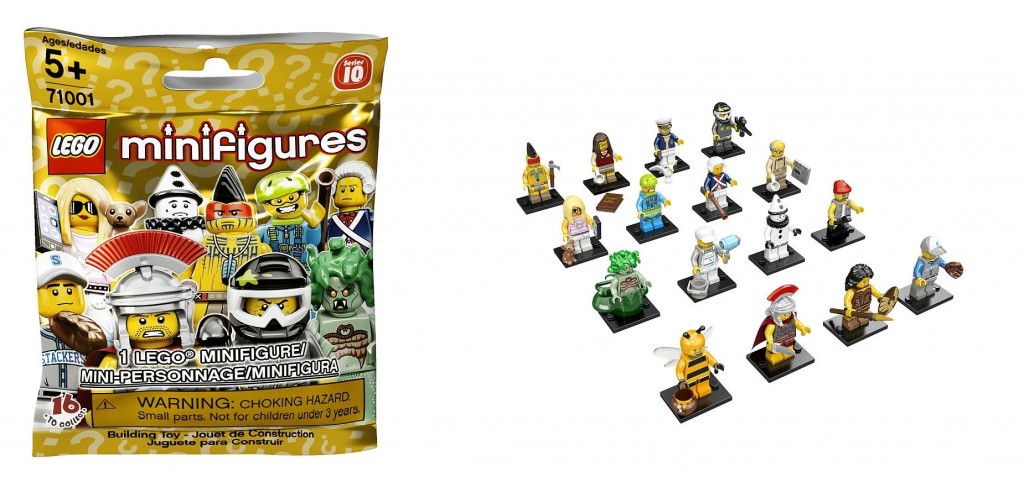 71001 LEGO Series 10 Minifigures Product Description
Collect every mystery minifigure in the exciting new Series 10! Get your hands on the exciting Series 10 minifigure mystery bags featuring 16 all-new characters and accessories to trade and collect! With 16 all-new, special minifigures in Series 10, the LEGO Minifigure Collection continues to grow. Each minifigure comes in a sealed 'mystery' bag with its own special accessories, display plate and collector's leaflet. Inspired by movies, sports, history and just everyday life, this collection includes: Warrior Woman, Decorator, Sad Clown, Roman Commander, Bumblebee Girl, Motorcycle Mechanic, Grandpa, Revolutionary Soldier, Baseball Fielder, Librarian, Sea Captain, Medusa, Skydiver, Trendsetter, Paintball Player, and Tomahawk Warrior.
The Lego Minifigure Series 10 features:
Every minifigure comes with accessories and display plate
A must-have for LEGO ® minifigure collectors
PLEASE NOTE: Only 1 of 16 individual minifigures in each 'mystery' bag. Unfortunately, we cannot accommodate requests for specific minifigures and some minifigures may be more difficult to find than others. You may receive 2 or more of the same minifigures. Trade with your friends to collect them all! A maximum of 16 minifigures may be ordered per address, per household.
This is the first series to have a 17th rare golden minifigure named Mr. Gold.
Mr. Gold will be randomly dispersed throughout the world. A total of 5,000 golden minifigures will be distributed, each containing a code to LEGO.com that when entered will show the number of golden minifigures found around the world at the point in time.
Follow and like Toys N Bricks: