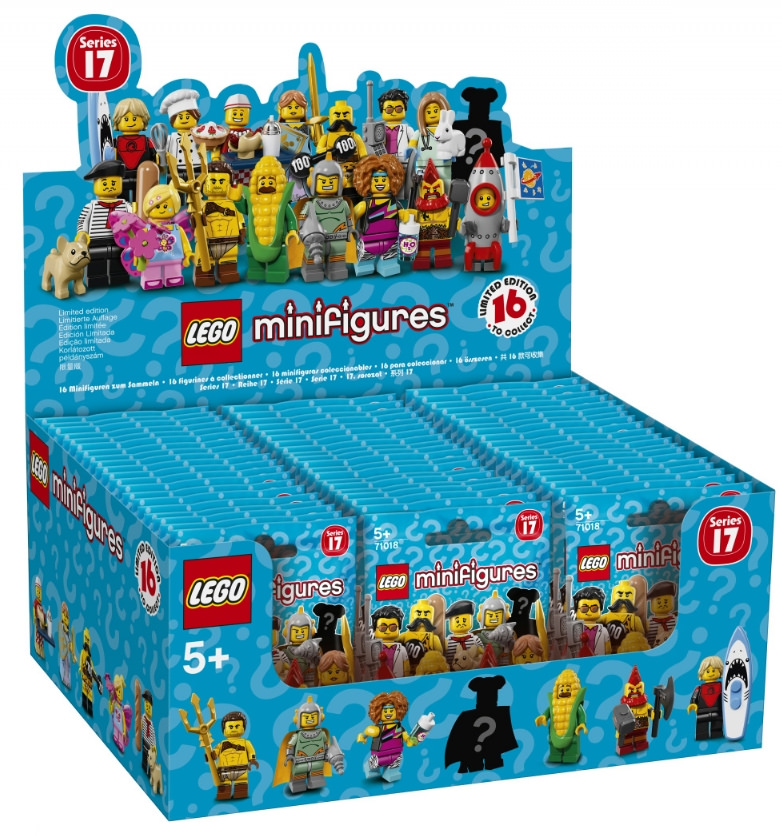 Official product images for the upcoming LEGO Collectable Minifigures Series 17 has surfaced from Eurobricks user Robert8. The series will be released on May 1st, 2017. Interestingly, they have hidden one of the minifigures which has been labeled as a "secret character". What minifigure do you think this would be?
LEGO 71018 Series 17 Minifigures Description
There are new, fun, mixed LEGO® Minifigures Series 17! Meet the characters Sausage Man, Elf Girl, Butterflies Girl, Circus Strong Man, Veterinarian, Battle Dwarf, Dance Instructor, Gourmet Chef, Connoisseur, Corn Cob Man, Roman Gladiator, Rocket Boy, Professional Surfer, Retro Spaceman, Yuppie and a Secret Character! Each fine minifigure comes with one or more pieces of accessories, a display plate and collector brochure. Which figure is a wonder in your next sealed bag?
• Each minifigure comes with one or more pieces of accessories and display plate and collector brochure.
• Collect all the figures in the new and exciting range of LEGO® Minifigures, and make your own fun adventures.
• Combine it with existing LEGO® sets, and have hours of building fun.
• Swap minifigures with friends and complete your collection.
• NOTE: Each bag contains one of the 16 characters in the series. Unfortunately we can not accommodate requests for specific minifigures. If you buy more than one bag, you risk getting more of the same minifigures.
When buying a whole box, there is a minimum of one of each figure.