Amazon United Kingdom currently has LEGO Star Wars Anakin's & Sebulba's Podracers on sale for £47.19 (reg.£81.99). After factoring 16.7% Europe tax discount and shipping, this works out to be £44.28 for North America or £61.91 for those outside of Europe. Base on Canadian 1.55 exchange rate, this works out to be $68.63 CAD. The set retails for $119.99 so thats 43% off retail.
*For United States fans, we would recommend buying from Amazon.com as its currently on sale for $69.99 USD (reg.$89.99). It works out to be cheaper than buying from Amazon UK due to the high 1.62 exchange rate.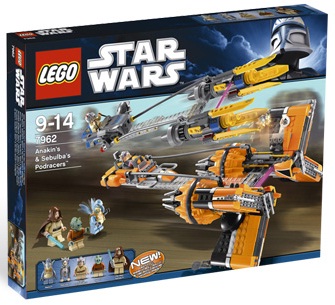 Price for a Anakin's and Sebulba's Podracers set
USA/Canada: £39.33 + £4.95 shipping = £44.28
Outside of Europe: £39.33 + £22.58 shipping = £61.91
Europe: Base price 1-2% VAT difference + Free shipping
UK: £47.19
Don't forget that each additional item only cost an extra £1-2 for shipping. If you are outside of Europe, we would definately recommend buying more than just 1 item as shipping for the first item is very expensive!