Here's the official press release for the upcoming 2013 DC Comics Superheroes set: LEGO Batman 10937 Arkham Asylum Breakout. Available January 2013 exclusively at LEGO Brand Stores or Shop at Home. Comes with 8 minifigures including quite a few new ones like Dr. Harleen Quinzel, Scarecrow, Penguin, Robin and The Joker. Thanks to Andrew from the Brothers Brick for reminding LEGO to send the information out.
LEGO 10937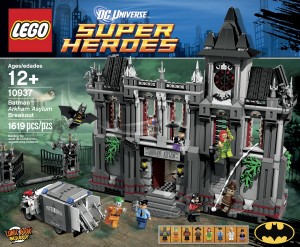 10937 Batman™ – Arkham Asylum Breakout
Ages 14+.  1,351 pieces.
US $159.99 CA $209.99 DE 159.99€ UK 129.99 £ DK  1399.00 DKK
The villains have broken out of Arkham Asylum and must be stopped!
Sound the alarm! The Joker, The Penguin, Poison Ivy and Scarecrow have escaped from Arkham Asylum with the help of Dr. Harleen Quinzel. These villains are about to wreak havoc in the streets of Gotham City! Help Caped Crusaders Batman™ and Robin swoop into action and put those good-for-nothing criminals back where they belong! Chase after the security van as it breaks through the gothic gates! Then throw each villain back behind bars in 8 highly detailed rooms.  Includes 8 minifigures: Batman™, Robin, The Joker, The Penguin, Poison Ivy, Dr. Harleen Quinzel, Scarecrow and a guard, all with assorted weapons or accessories
Includes 8 minifigures: Batman™, Robin, The Joker, The Penguin, Poison Ivy, Dr. Harleen Quinzel, Scarecrow and a guard, all with assorted weapons
Features Arkham Asylum, security gate, gothic décor, moss, vines and ice elements
Vehicles include security van
Security van features opening back doors, removable roof and stretcher
Arkham Asylum features opening cell doors, special Poison Ivy cell with transparent doors, the Mr. Freeze icy tower room, the Dr. Harleen Quinzel office and changing room, medical treatment room and security reception area
Security gate features opening double doors and security camera
Weapons include Batarang and kendo stick
Recapture the villains!
Break through the gate with the security van!
Open all of the cell doors and let the villains out!
Unleash The Joker from his cage restraints in the security van!
Arkham Asylum measures over 12″ (32cm) high, 13″ (34cm) wide and 5″ (14cm) deep
Security van measures over 2″ (7cm) high, 5″ (13cm) long and 2″ (6cm) wide
Security gate measures over 5″ (12cm) high and 9″ (24cm) wide
Follow and like Toys N Bricks: