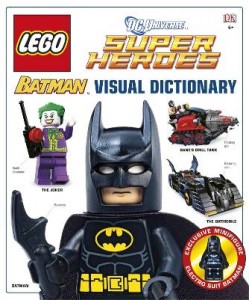 Dorling Kindersley has just updated the info section for the LEGO Batman Visual Dictionary. They now have pictures showing sample pages as well as the exclusive minifigure! There are 96 pages and will be available September 3, 2012. (via Smashing Bricks)
LEGO DC Comics Superheroes Dictionary Description
Enter the world of LEGO Batman
LEGO Batman the Visual Dictionary is the complete visual guide to all things LEGO Batman, and includes an exclusive minifigure with every copy.
This is the ultimate guide to every set and minifigure to be found in the Arkham universe, including all of your favourite goodies (and baddies), from Catwoman, The Joker and Poison Ivy, to Robin and Alfred. Take a look inside amazing locations – from the spooky Arkham Asylum to the brilliant Batcave. You can even get up close to the Batmobile and relive major events such as Mr Freeze and The Penguin's invasion.
An illustrated timeline shows every LEGO Batman set ever produced. Fantastic comic-strip features bring the models to life, as you learn about them all from the point of view of the amazing universe of LEGO Batman. Go beyond the bricks to look at the world of the LEGO Batman computer game, merchandise and the fan community. What's more, the corners of each page create two fun flip books for you to enjoy!
There's no need to send out the Bat-Signal – LEGO Batman the Visual Dictionary will save the day for fans of LEGO Batman.