LEGO Bricktober 2022 is coming up! LEGO South Korean Instagram social media has revealed the lineup for this year's limited edition LEGO Bricktober 2022 gift sets lineup. In the past, LEGO Bricktober sets are available at Toys R Us with a new gift set available each week for the month of October 2022. Usually, you have to spend a certain amount of money on LEGO to get it for free.
LEGO Bricktober 2022 Availability
The LEGO Bricktober 2022 promotion is expected to continue in regions like Asia that still have Toys R Us.
For those in United States U.S, United Kingdom UK and Australia, Bricktober never really came back after Toys R Us shut down in United States U.S, United Kingdom UK and Australia several years ago. With that said, there's a small comeback with a few locations in U.S and UK opening up with smaller stores. However, it is still uncertain if they will still have LEGO Bricktober 2022.
For those in Canada, there will be most likely be LEGO Bricktober 2022 sales and deals. The Bricktober 2022 gifts in Canada may be different compared to the Asia lineup.
LEGO Bricktober 2022 Gift Sets
For LEGO Bricktober 2022, there will be four different ride sets being given out as part of the October 2022 promotional deal. These are coin operated rides and each one comes with a cool LEGO minifigure. There's a little staircase that leads up to the vehicle of the ride. The themes are primarily classic ones and features Castle, Fairytale, Pirates and Space. It is to celebrate LEGO's 90th Anniversary.
The first week appears to be a blue LEGO spaceship ride with a classic LEGO space boy minifigure. The second week is a LEGO pirate ship ride with a LEGO boy pirate minifigure. The third week is a blue LEGO fairytale ponytail unicorn ride with a LEGO girl minifigure. The fourth week is a green LEGO dragon ride with a LEGO girl minifigure with sword and shield.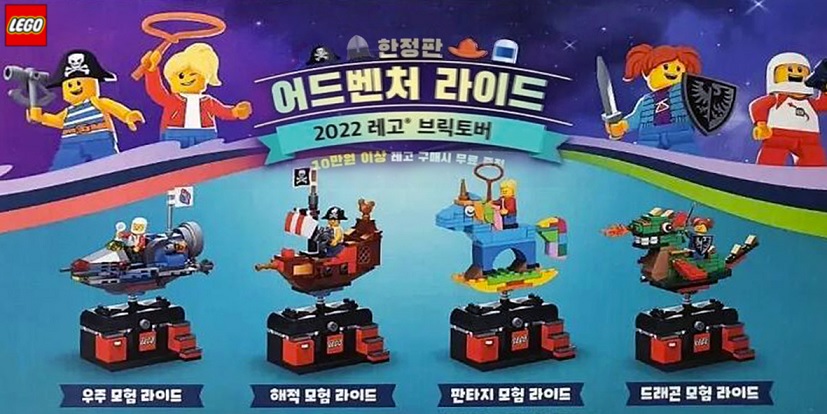 Toys N Bricks is your destination for the latest and hottest LEGO News, Sales News, Creations and Reviews! (www.toysnbricks.com)
Follow and like Toys N Bricks: