Kez writes in to let us know the list of upcoming LEGO DC Universe Superheroes 2013 Sets.
DC Universe 2013 Sets
LEGO 76000 Arctic Batman vs. Mr.Freeze -Aquaman on Ice
LEGO 76001 Batman vs. Bane – Chase with Tumbler
Marvel 2013 Sets
LEGO 76004 Spider Man – Hunting with Spider-Cycle
LEGO 76005 Spider-Man – Mission at Daily Bugle
LEGO 76007 Super Heroes: Marvel 4
Forum member Buttmunch purchased the Batman Visual Dictionary the other day from Amazon.com (its now going for $11.67 which works out to be 47% off) and he is reporting that there are some Superheroes LEGO pictures that haven't been seen before. These could possibly be part of the upcoming 2013 sets.
LEGO Mr.Freeze with Ice Vehicle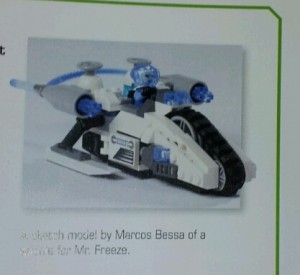 LEGO Wonder Woman's Invisible Jet 2013
Follow and like Toys N Bricks: