Warner Bros. Interactive Entertainment, TT Games and the LEGO Group have partnered together to create an all new experience with LEGO building and Video Games. LEGO Dimensions will officially be launched beginning September 27, 2015. There will be many characters from different movies and video games. This is an all new concept that combines physical LEGO bricks and the digital context of the video game. There will also be a launch of LEGO Dimensions sample packs as well!Starter Kit 71171 for LEGO Dimensions (shown above) will be priced at $99.99 and is also now available for pre-order at
Amazon.com
. The video game will be available on the usual platforms including Wii U, PS3, PS4, Xbox One and Xbox 360.
Thanks to everyone that informed us of the news!
LEGO Dimensions Starter Pack Product Description
When a mysterious and powerful vortex suddenly appears in various LEGO worlds, different characters from DC Comics, Lord of the Rings and the LEGO Movie are swept away. To save their friends, Batman, Gandalf and Wyldstyle bravely jump into the vortex to rescue their friends and fight to save all of LEGO humanity. Let your creativity be your guide as you build the LEGO Gateway to adventure, journeying through unexpected worlds and teaming-up with unlikely allies on the quest to defeat the evil Lord Vortech. Play with characters you never thought you could see in a LEGO game together, using vehicles and weapons you never thought possible. LEGO Bad Cop driving the DeLorean Time Machine. Why not?! The Ninja go Masters of Spinjitsu fighting alongside Wonder Woman…yes, please! Get ready to break the rules, because the only rule with LEGO Dimensions is that there are no rules.
For the first time, LEGO characters from a mix of the best brands in the universe join forces and battle in worlds outside of their own. A Dark Knight, a Wizard, and a Master Builder traveling together down the Yellow Brick Road are just the beginning..
By purchasing additional expansion packs, you can grow your collection with a variety of your favorite brands to create even more crazy combinations.
Bring up to 7 characters, vehicles and weapons into the game all at once by dropping them on the LEGO Gateway for the most exciting and action-filled game around.
Let your imagination guide your solo journey or have a friend join the adventure with co-operative, drop-in/out play.
A LEGO Toy Pad and the videogame found in the initial Starter Pack will offer continued compatibility with future Expansion Packs for years to come. No compatibility chart necessary – everything you buy today or expand with tomorrow will continue to work.
LEGO Dimensions Level Packs, Team Packs and Fun Packs
There will also be expandable LEGO Dimensions packs including Level Packs ($29.99), Team Packs ($24.99) and Fun Packs ($14.99). These packs are also now available for pre-order at Amazon (USA).
LEGO Dimensions Team Pack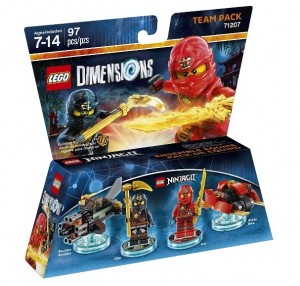 LEGO Dimensions Level Packs
LEGO Dimensions 71201 Back to the Future Level Pack
LEGO Dimensions Fun Packs
You can check out all of the LEGO Dimensions Fun Packs here. They are priced at $14.99 each.
71209 DC Wonder Woman Fun Pack
71212 Emmet Fun Pack
71213 Bad Cop Fun Pack
71214 LEGO Movie Benny Fun Pack
71215 Ninjago Zane Fun Pack (not available for pre-order yet)
71216 Ninjago Nya Fun Pack
71218 Lord Of The Rings Gollum Fun Pack
71219 Lord Of The Rings Legolas Fun Pack
71210 DC Cyborg Fun Pack
71220 Lord Of The Rings Gimli Fun Pack
71221 Wizard of Oz Wicked Witch Fun Pack
71231 LEGO Movie Unikitty Fun Pack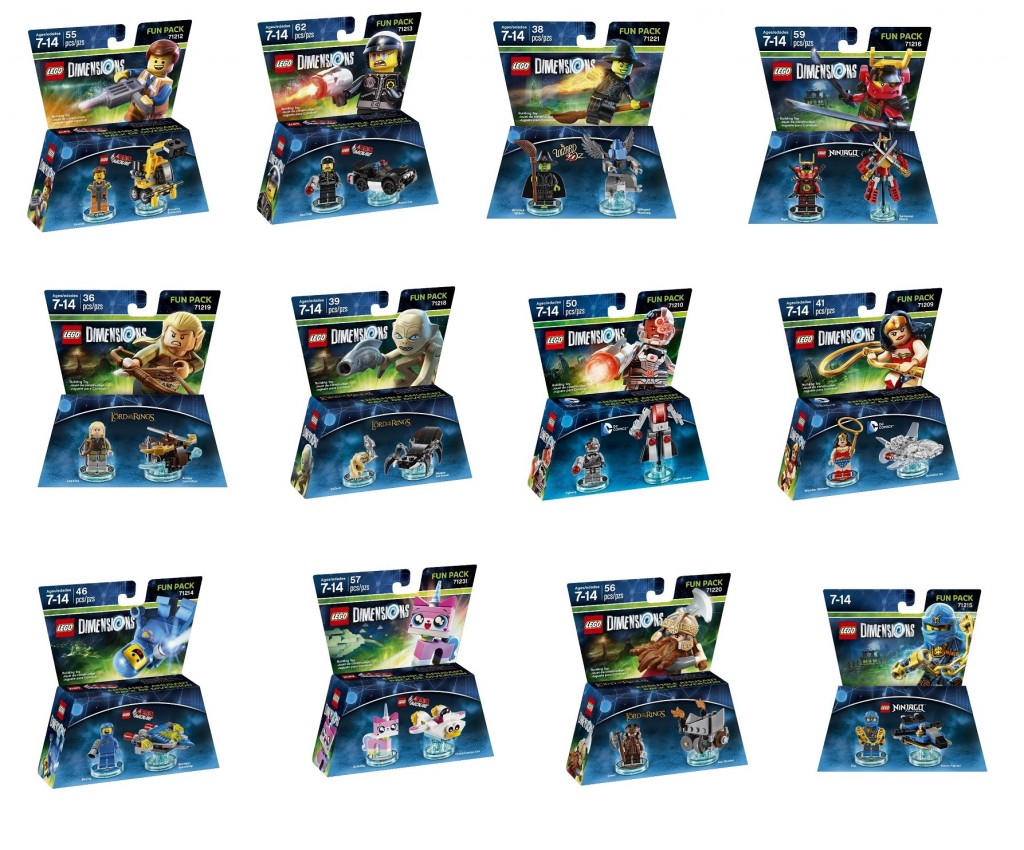 Official LEGO Dimensions Press Release
Below is the official press release from LEGO.com. The microsite is also now live as well.
The Creativity of LEGO Building Meets the Epic Story-Telling of LEGO Videogames for Multi-Dimensional Fun. Fan-Favorite Worlds Converge in One Thrilling Adventure — A Dark Knight, a Wizard, and a Master Builder Traveling Down the Yellow Brick Road is Just the Beginning!
Warner Bros. Interactive Entertainment, TT Games and The LEGO Group today announced LEGO® Dimensions, an all-new entertainment experience that breaks the rules of traditional gaming to merge physical LEGO brick building with interactive console gameplay in a manner only imaginable in the world of LEGO games. Launching September 27, 2015, the game will fuse many fan-favorite universes together, including DC Comics, The Lord of the Rings, The LEGO Movie, The Wizard of Oz, LEGO Ninjago, Back to the Future, and many more still to be announced.LEGO Dimensions, developed by TT Games and published by Warner Bros. Interactive Entertainment, will be available for Xbox One, the all-in one games and entertainment system from Microsoft and the Xbox 360 games and entertainment system from Microsoft, PlayStation®4 and PlayStation®3 computer entertainment systems and the Wii U™ system from Nintendo.For the first time in any LEGO videogame, characters from iconic entertainment franchises join forces and battle in worlds outside of their own. In addition to the game, the LEGO Dimensions Starter Pack will include the LEGO Toy Pad, which allows players to transport special LEGO minifigures and other LEGO objects into the game, bricks to build the LEGO Gateway, three LEGO Minifigures, including LEGO BatmanTM from DC Comics, LEGO Gandalf from The Lord of the Rings and Wyldstyle from The LEGO Movie, plus the LEGO BatmobileTM."When kids play with LEGO bricks, they build beyond the singular brands, intermixing all of their favorite characters and universes, and we have come up with a way for players to experience that in games," said Jon Burton, Founder and Creative Director, TT Games. "Now for the first time in a videogame, LEGO fans can play in the virtual world and in the real world – combining everything without restrictions. Imagine putting LEGO Gollum from The Lord of the Rings behind the wheel of the LEGO Delorean in New Ninjago City – the creative play is endless.""Building on TT Games' track record for exceptionally popular, engaging games, LEGO Dimensions expands our LEGO videogame franchise with a breakthrough, immersive interactive entertainment experience that will redefine the toys to life games category," said Jeff Junge, Senior Vice President, LEGO Franchise and TT Games, Warner Bros. Entertainment. "LEGO Dimensions will bring fans innovative and joyful gameplay with an amazing mash-up of huge brands in both the physical and digital worlds.""LEGO Dimensions is unlike anything that we have ever done. It further extends the LEGO play experience into the digital world with all of the characters, humor and action of LEGO videogames now combined with the fun of LEGO minifigure and model building," said Niels Jørgensen, Vice President, Digital Games for the LEGO Group. "We are thrilled to expand our partnership with TT Games to explore ways in which physical and digital LEGO play can merge in meaningful ways for children."In addition to the three minifigure heroes used to start the experience, LEGO Dimensions will allow gamers to customize their experience with additional expansion packs. Highly collectible Level Packs, Team Packs and Fun Packs will provide new buildable characters, vehicles, tools and gadgets, as well as compelling game content with new mission-based levels and unique in-game abilities. All expansion packs will feature well-known properties and provide gamers the opportunity to use everything interchangeably, anywhere throughout the game – with no limitations.SAMPLE PACKS LEGO DIMENSIONS
A small sample of packs available in 2015 include the Back to the Future Level Pack with a LEGO Marty McFly minifigure, a LEGO Ninjago Team Pack with Kai and Cole minifigures, three Ninjago Fun Packs with Jay, Nya and Zane minifigures, two DC Comics Fun Packs with Wonder Woman and Cyborg minifigures, three The Lord of the Rings Fun Packs with LEGO Gollum, LEGO Gimli and LEGO Legolas minifigures, four The LEGO Movie Fun packs with Emmet, Bad Cop, Benny and Unikitty characters, and a The Wizard of Oz Fun Pack with a LEGO Wicked Witch of the West minifigure. Additional packs to round out the 2015 assortment will be announced in the months leading to launch. Further waves of expansion packs will be released regularly following the launch of the game and into 2016.
LEGO Dimensions not only offers a bridge between digital and physical LEGO play, but also introduces a digital system of play with great long-term value for LEGO gaming. One LEGO Toy Pad, LEGO Gateway and the videogame found in the initial Starter Pack will offer endless opportunities to customize a player's experience for years to come. Future expansion pack purchases will continue to work with the Starter Pack, even in the fall of next year. No compatibility chart necessary.
Follow and like Toys N Bricks: