April 6 Update: Fire Temple sold out at the £49.99 price. The Burrows is still available at the discounted price.
Amazon UK has the discontinued LEGO Ninjago 2507 Fire Temple back instock for £49.99 (reg.£91.99). If you missed out last time, now would be the chance to get it! As always, extra 16.7% off tax discount if you live outside of Europe. Thanks to forum member fouzie for the heads up.
If you are from US/Canada, this effectively works out to be £46.61 after shipping and tax discount. Thats roughly ~$74 USD (reg.$119.99 USD) which is almost 40% off for US or 52% off for Canada! Shipping and tax discount calculations can be found from our post earlier during February.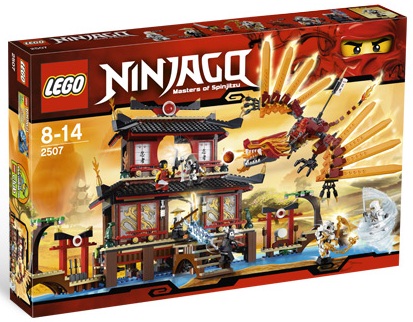 They also have the discontinued LEGO Harry Potter 4840 The Burrows on sale for £39.99 (reg.£61.99) which works out to be 35% off in UK savings. This set is getting quite hard to find and the good news is that it ships worldwide too. You can check their Bestsellers LEGO Sales List for more great deals!