A couple of new LEGO sets have been revealed from the upcoming Toys R Us Hong Kong promotion that we mentioned earlier (thanks again Eminem). You can check the post earlier for details in regards to how you can get these sets and eminemminifigures from their promotion. Here's a closer look at some of the new minifigures and sets!
LEGO 40207 Year of the Monkey Set (Chinese New Year 2016)
We've seen images of the Year of the Monkey set earlier and now, LEGO.com has the official instructions released for it. If you can't take advantage of the promotion in Hong Kong, you can try building the set yourself with LEGO pieces that you currently own. Alternatively, you can also visit your local LEGO Brand Store to get the pieces that you need from their Pick a Brick Wall.
LEGO 30396 Friends Cupcake Stall, 30422 Ninjago Kai's Mini Dragon
Two new LEGO polybag sets have surfaced including Ninjago 30422 Kai's Mini Dragon and 30396 Friends Cupcake Stall. The Dragon looks very cool and the Cupcake Stall would fit well with a Summer city park picnic scene. These sets would most likely be available in other parts of the world soon.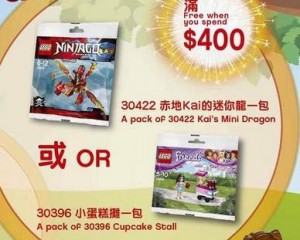 LEGO The Force Awakens First Order Imperial Officer & Exclusive The Force Awakens Star Wars Poster
There is a new exclusive minifigure that will be released. It appears that this minifigure is a First Order Imperial Officer in black uniform (bottom left). In addition, there is also a limited edition LEGO Star Wars The Force Awakens poster with the Millennium Falcon on top of a lightsaber due (right).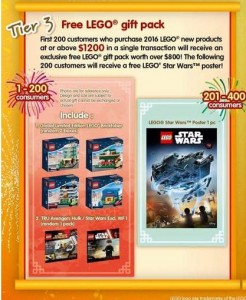 Follow and like Toys N Bricks: