The Archive LEGO Forums can be accessed here.
The community was active from 2009-2017. It is now available mainly for archive purposes due to inactivity since 2017. You can no longer register for an account on the old forums. Please visit our new forums at toysnbricksforum.com. Our main focus is on the LEGO News Frontpage where we provide regular updates on LEGO News, LEGO Sales, LEGO Reviews and LEGO Creations. Let us know if you have a great LEGO News find!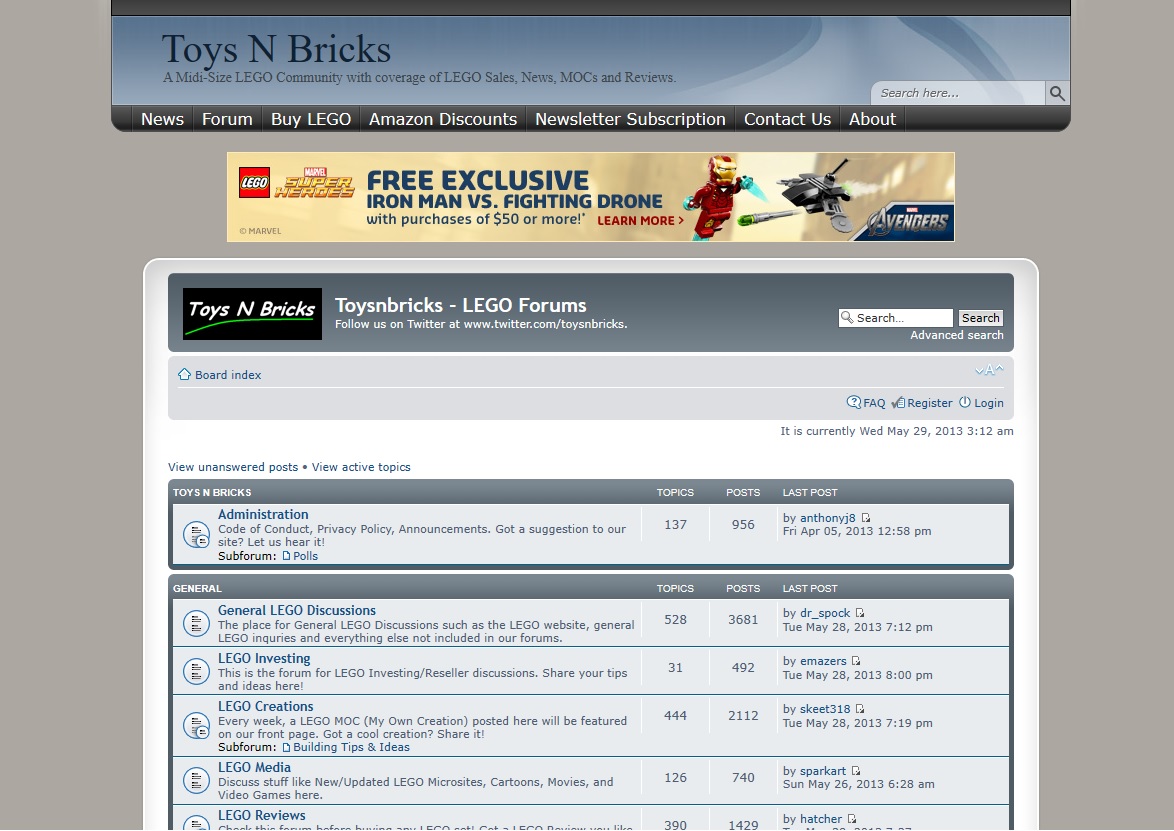 Archive Forum Frequently Asked Questions (FAQs)
Forum Registration: When answering the skill-testing question, it is not the default answer as that is used to mislead spam bots.
Note that hotmail accounts are not receiving any emails. As such, please refrain from using Hotmail when registering. If you still have difficulties, please contact us below with your forum username. In addition, please provide the email that you've used to register.
Change Username: Unless you have an extenuating circumstance, please be advised that we cannot change your usernames once you have registered with us. As such, please choose a good username that you like and can remember at the beginning.
CAPTCHA Code: Unfortunately, we are unable to assist in the CAPTCHA code during the registration process. If you have trouble reading it, please refresh it. Due to security and privacy reasons, please note that we cannot manually register an account for you.
Forgot Password: Please visit this page to reset your password.
Marketplace Forum: All forum members can view and conduct trades in the Buy/Sell/Trade forum. The Buy/Sell/Trade forum automatically opens up if you have been an active/long term member. You do not need to request permission nor is there any activation needed from us. Once the forum has been fully opened up, it will allow you to create new topics so that you can sell and trade freely within the Toys N Bricks community. Please note that we are not responsible for any trades or purchases that have gone wrong.
Archive Forums Other General Frequently Asked Questions (FAQs)
Buy LEGO: We are affiliates with many LEGO retailers that sponsor and fund our site. However, we do not sell LEGO nor do we have any other affiliations with these retailers. If you have a concern or problem with your order, please contact that retailer.

Sell LEGO: Toys N Bricks has a Marketplace Buy/Sell/Trade Forum for active/long term members. However, we are not the primary website for sellers to sell LEGO. If you would like to sell LEGO, Bricklink offers a nice platform for LEGO fans to sell LEGO.
Retailers/Dealers/Wholesalers: Please contact LEGO if you are a retailer and would like to purchase LEGO inventory.
Toys N Bricks is your destination for the latest and hottest LEGO News, Sales News, Creations and Reviews! (www.toysnbricks.com)
Support Toys N Bricks by Buying Toysnbricks Branded Merchandise at ShopToysnbricks.com.
Subscribe for Free by Email and Follow Us on Facebook, Twitter, Instagram and Flickr.