If you couldn't make it to the Mall of America LEGO Store to see the unveiling of the new exclusive LEGO set, not to worry as we've got full coverage right here! LEGO Haunted House 2012 was the exclusive set that was revealed a couple hours ago. Part of the Monster Fighters theme, this set will be available beginning September 2012 at LEGO Brand Stores and Shop at Home. Perfect timing for Halloween!
LEGO 10228 Haunted House Box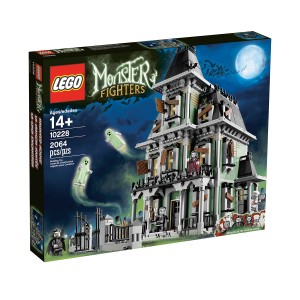 10228 Haunted House
Ages 14+.  2,064 pieces.
US $179.99  CA $199.99  DE €149.99 UK £119.99 DK 1499 DKK
Enter the Haunted House at your peril!
The crooked Haunted House is home to the scariest ghosts and monsters. Tremble in fear as you open the gate, go weak at the knees as you step onto the porch and gasp in horror at the fireplace, kitchen, office, folding staircase, bedroom, potion room, music room and collection of other creepy objects. Dare you enter the Haunted House?!
Add to your LEGO® Monster Fights Collection with the first officlal LEGO® Haunted House!
Includes 6 minifigures: 2 glow-in-the-dark ghosts, Vampyre, Vampyre's Bride, Zombie chef and butler
Features unique 'crooked' design featuring boarded up windows and working front gate.
Haunted House opens to reveal detailed interior with 3 floors.
First floor features fireplace that swings open and displays a ship in a bottle on the mantle.
Cook up a ghoulish meal with the Zombie chef in the kitchen complete with old-style stove, jars and table.
Write letters from the Vampyre's haunted office.
Pull the lever hidden in the chimney to release the drop down staircase and access the top floor.
Top floor features gramophone, records and newspaper LEGO® elements.
Customize the Haunted House with new stickers for wall hangings, spider webs and curtains.
Measures 15.4" (39cm) high, 9.4" (24cm) wide and 7.5" (19cm) deep
*A youtube designer video is also available here. Additional pictures available in our Flickr Photostream.
Follow and like Toys N Bricks: