The latest 2021 LEGO Ideas Project Creation to achieve 10 000 supporters is LEGO Ideas Project Creation Among Us The Skeld Detailed Map by VaderFan2187. Congrats! Your project would now be headed to the LEGO Ideas review stage where it would be evaluated to potentially become the next official LEGO Ideas set.
Among us is a popular multiplayer online game where players work towards solving a mission. A LEGO Among Us set would definitely be cool to see. If it successfully passes the LEGO Ideas review stage, we'll probably see a LEGO Among Us set in 2022.
LEGO Ideas Project Creation Among Us: The Skeld Detailed Map Description
Among Us is a great game that has taken the YouTube and gaming community by storm – I fell in love with it when I started playing it. This LEGO Ideas project is the culmination of hours of work: research, designing, and finally getting ready for the project release!
This is the first and only LEGO Ideas project that features a complete, detailed recreation of the entire map known as "The Skeld" – generally considered the main map of the game. Explore the various rooms and complete your tasks, but watch out! Don't get stabbed by an impostor, and be sure to keep an eye out for sabotages!
Every interactive detail from the game has been replicated in the model, from the press-able emergency button and open-able vents to countless tasks and sabotages across the build! I referenced a detailed map of the in-game Skeld when building it, so every task (including wires, manifolds, downloads, power diversions, engine refueling, and more) is present! There are even special play features for the weapons room (firing cannons), shields (light-up shield generator), and trash disposal (it actually ejects mini LEGO trash pieces!) I've even included the in-game map for comparison in one of the pictures.
If minifigures are what you like, 12 are included in this project – each one comes with the corresponding color in the game, so no matter what color you choose (white, black, blue, red, green, yellow, lime, orange, brown, cyan, pink, or purple) there's a figure available for you!
Take time to scroll through all the pictures to see the hidden details. I hope you'll like it, and please do support the project – your support means the world to me! If you have any feedback or questions, leave it in the comments section: I'll try to respond as soon as I can!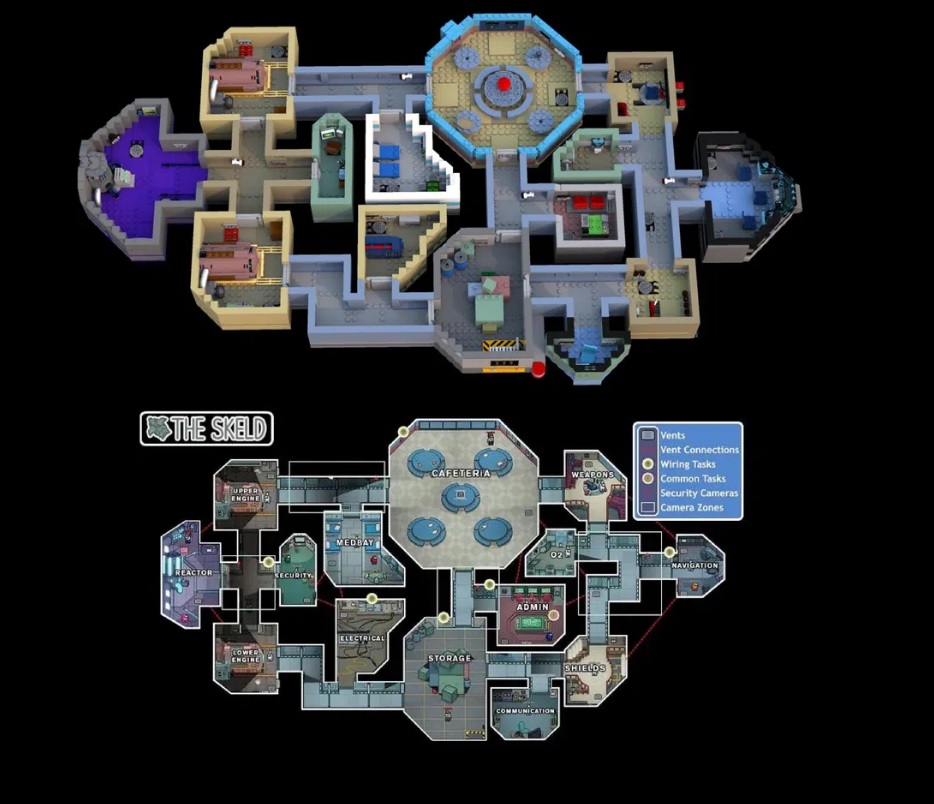 Toys N Bricks is your destination for the latest and hottest LEGO News, Sales News, Creations and Reviews! (www.toysnbricks.com)
Visit the Toysnbricks LEGO Forums for LEGO Related Discussions.
Subscribe for free by Email and Follow Us on Facebook, Twitter, Instagram and Flickr.