The latest LEGO Ideas Project Creation to achieve 10 000 supporters is LEGO Ideas Project Creation Automated Garbage Truck by MochiMaster. Congrats! Your project would now be headed to the LEGO Ideas review stage where it would be evaluated to potentially become the next official LEGO Ideas set.
LEGO Ideas Project Creation Automated Garbage Truck Description
Keep your LEGO city tidy with an automated garbage truck!  This IDEAS project is an automated side-loading garbage truck that reinvents minifig-scale garbage collection.  The truck has several functions:
A working side loading bin arm that can pick up and empty LEGO trash bins into the truck's hopper
A trash compacting ram to push trash from the hopper to the dumper
A dumper that is hinged to tip back with a tailgate that opens up to dump the garbage
Both the bin arm and compacting ram are operated by turning knobs.  When fully extended, the ram pushes all the trash into the hopper for easy dumping.  This set integrates some basic Technic elements such as crown gears and a rack and pinion mechanism to create sophisticated functions in a compact minifig-scale vehicle build.
You can switch the printed tiles on the truck's doors to change from recycling to trash to compost collection.  Two minifig workers operate the truck to make sure everything runs smoothly.  A minifigure fits comfortably in the cab, and another can ride along using the ladder and handrail.
The set comes with "waste" bricks that can be sorted into recycling, trash and compost for individual collection.
You can build the set with either a left- or right-hand bin arm depending on your LEGO city's local traffic.
Don't forget to put your trash bins out, and please support and share this project!
The build
The Automated Garbage Truck model contains 441 pieces.  This design was created and refined with bricks on hand over the course of more than a year and at least a dozen different design iterations.  We then created a model in LEGO Digital Designer and used digital renders to visualize different colors.
The custom printed bricks were created digitally using LDPatternCreator, using Stud.io and Blender for the final digital renders.  For creating actual custom printed bricks, we made color laser prints of the designs, covered them with scotch tape and then gently washed the paper off using water, leaving enough stickiness on the tape to stick to the bricks.
The Automated Garbage Truck project is a father and son collaboration between MochiMaster and Alexander Hamsterton.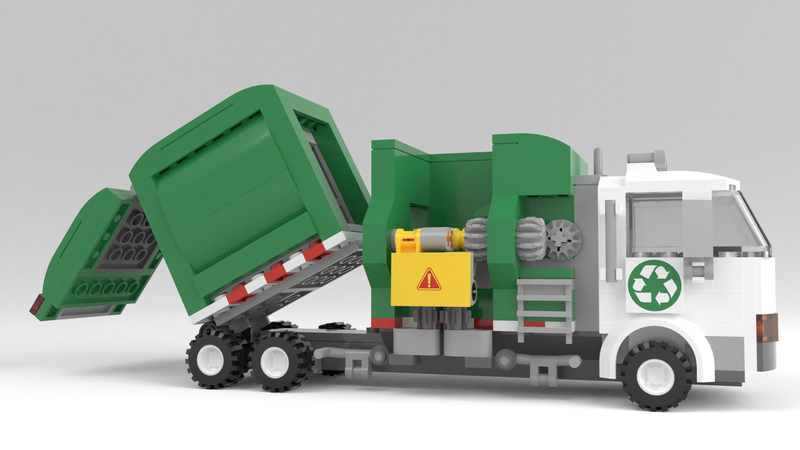 Toys N Bricks is your destination for the latest and hottest LEGO News, Sales News, Creations and Reviews! (www.toysnbricks.com)
Visit the new 2020 Toysnbricks LEGO Forums for LEGO Related Discussions. Registration is free.
Subscribe by Email and Follow Us on Facebook, Twitter, Instagram and Flickr.