The latest LEGO Ideas Project Creation to achieve 10 000 supporters is LEGO Ideas Project Creation Castle of Lord Afol and the Black Knights by SleeplessNight. Congrats! Your project would now be headed to the LEGO Ideas review stage where it would be evaluated to potentially become the next official LEGO Ideas set.
LEGO Ideas Project Creation Castle of Lord Afol and the Black Knights Description
The story
A long time ago the Black Knights ruled the Legoland. With the fall of Legoland and the arrival of the Royal Knights, their power went into decline and they were forced into exile. The succession of short-lived kingdoms followed, but none of them managed to bring peace to poor villagers. The robbers became prevalent and the invasion of Orcs and mythical creatures turned the country to ruins.
After many years the scattered chevaliers were finally gathered together by Lord Afol to challenge the usurpers. Support them in their quest to reestablish the Legoland and their old glory!
The fortress
Build the mighty fortress to provide the Black Knighs with a safe base from which they can reconquest their country. It will have a tall gate tower with a drawbridge and a portcullis. It will have a bergfried and a dungeon complete with a torture seat; a trapdoor to conveniently put someone in the dungeon; another to expel the unwanted guests; a stable for Lord Afol's precious destrier and an armory; living quarters, a latrine, a well, a kitchen, even a cold store with supplies for the time of a siege. Make it real!
The build
The castle is modular – each corner sits on its own base and floors can be separated for easy access. The castle is big enough to be greatly playable – it would fit exactly a 48 x 48 baseplate (which is not included for the sake of modularity). The build uses Pythagorean triangles to connect walls at an angle, while still keeping the build totally legit, solid and sturdy and with zero gaps. While keeping the piece count is within the limit of 3000, there is still a lot of detail, both for looks and playability.
The challenge
Let's bring back the greatness of the Lego Castle!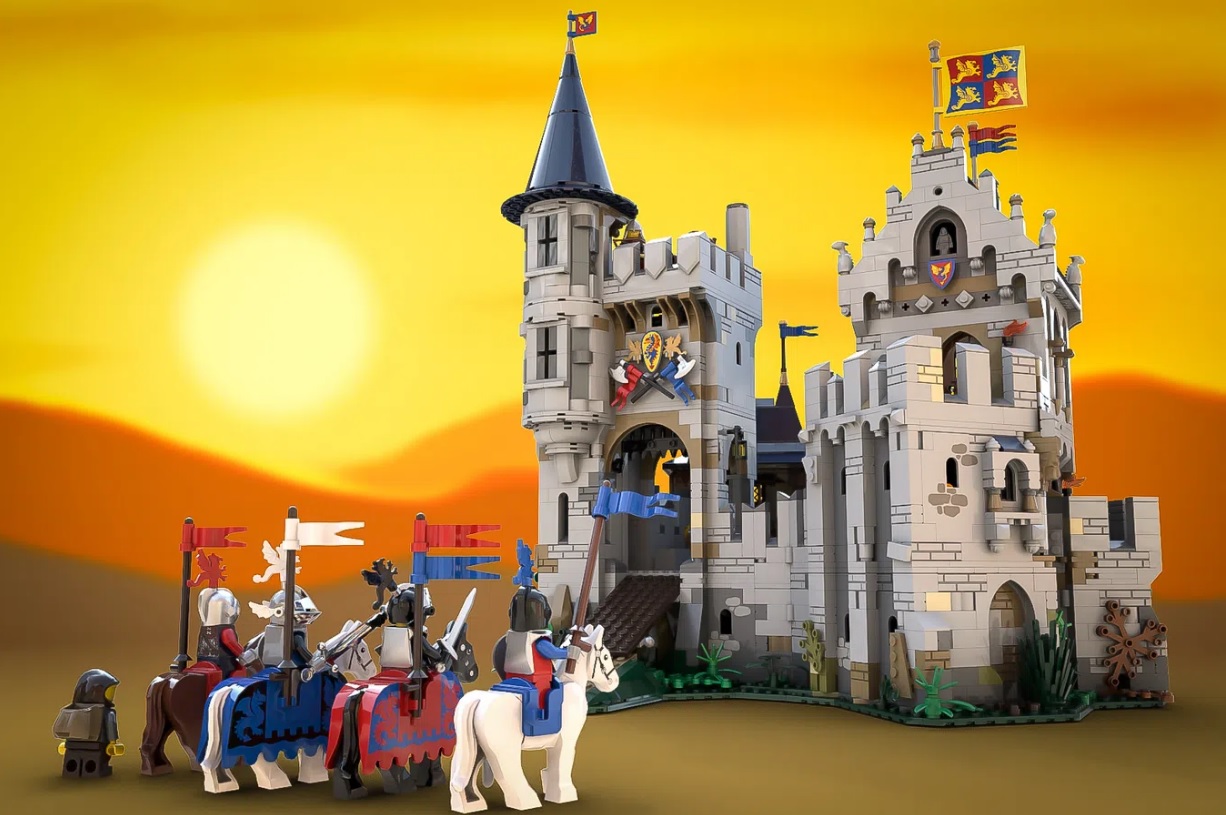 Toys N Bricks is America's greatest destination for the latest and hottest LEGO News, Sales News, Creations and Reviews! (www.toysnbricks.com)
Visit the new 2020 Toysnbricks LEGO Forums for LEGO Related Discussions. Registration is free.
Subscribe by Email and Follow Us on Facebook, Twitter, Instagram and Flickr.
Follow and like Toys N Bricks: