The latest LEGO Ideas Project Creation to achieve 10 000 supporters is LEGO Fast Food Corner by RobinHoodBricks. Congrats! Your project would now be headed to the LEGO Reviews Stage where it would be evaluated to potentially become the next official LEGO Ideas set.
LEGO Fast Food Corner Project Creation Description
Fast Food Corner is my first Modular MOC build and consists of a Fast Food outlet (that uses LEGO Juniors panel pieces from set 4655), a Pawnbroker, a Pharmacy and an Outdoor Adventure shop with an indoor climbing wall.
This modular is named after its landmark corner sign which features the holy trinity of Fast Food: burger, fries and milkshake!
The whole build was inspired by the large old Juniors window pieces that I wanted to use to create a realistic but small Fast Food business. This soon developed into a much bigger build where the focus was on cramming as much stuff into a single baseplate as possible.
The second business is an old-fashioned Pawnbroker with the traditional 3-balled sign. Styled in a lovely gold and black colour scheme, this building has an assortment of antiques and curiosities for sale on the ground floor, whilst the upstairs has more modern items for sale.
The Pawnbroker is a distinct structure from the rest of the build and has an older building style and architectural features.
The third business is a Pharmacy with its characteristic green cross sign. It's quite a squeeze trying to get four businesses into one baseplate, so the Pharmacy can only be eight studs wide. Not to worry as this is plenty of space to accommodate a pharmacist, employee and plenty of stock.
The fourth business is an Outdoor Adventure shop, full of climbing, hiking and outdoor equipment. I even managed to fit in a full sized tent, raft and canoe inside. From the outside this shop has a fun sign and a snow-shoe handrail up the stairs from the street. It also includes many fun features inside including clothing rails, a mezzanine level with loads more stock for sale, and a two storey climbing wall.
To cap it all off the Pawnbroker, being an older building, has a pitched roof in dark blue and the rest of the modular has an ornate flat roof that echoes the colour highlights of the windows beneath. The back yard is finished with a messy scene, and there's plenty of life in the street outside.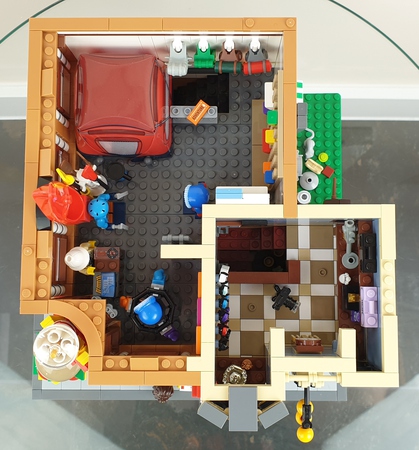 Toys N Bricks is your destination for the latest and hottest LEGO News, Sales News, Creations and Reviews! (www.toysnbricks.com)
Subscribe by Email and Follow Us on Facebook, Twitter, Instagram and Flickr