The latest LEGO Ideas Project Creation to achieve 10 000 supporters is LEGO Ideas Creation Gold Rush Mine Train Roller Coaster by Footonabrick. Congrats! Your project would now be on its way to the LEGO Reviews stage where it would be evaluated to potentially become the next official LEGO Ideas set.
LEGO Ideas Gold Rush Mine Train Roller Coaster Project Creation Description
Gold Rush Mine Train! Take a thrill ride around an abandoned gold mine. Your journey begins by passing a broken cart carrying dynamite. On your way to the top you may spot the final resting place of an old miner guarding a trap door into the mine below. Watch out for the water tower on your first descent – you may get a little wet. Don't forget to smile for the camera on the big drop, where at the bottom you may catch a glimpse of the waterfall where miners panned for gold just before you enter the old mine itself. When you finally depart the ride buy a photo, and the toilets are down the stairs on your right.
Hungry? Grab some lunch at 'Mighty Mine Meals', then treat yourself to an ice cream at 'The Chiller' next door. Before queuing to ride again, test your skills at 'Buckshots' to win a prize, or why not try the western themed arcades. There is 'Dyna-Wack' which actually works! Hitting one dynamite stick down will raise another up. 'Outlaw' is a shooter game and 'All-Star Sheriff' has a swinging punchbag. There is also an air hockey table with a golden puck, which is just about big enough to actually play!
I'm a big fan of the Lego roller coasters sets, so I thought I'd try my own and thoroughly enjoyed designing it and overcoming numerous challenges (the supports in particular!). I think this would make a fab set with lots of variety to maximise the fun. Ideally I'd love to see Lego add some new helix track to take it to the next level and help maintain speed!
2200 pieces, including 6 staff, 6 thrill seekers, 2 mine trains, 1 horse, 2 skeletons, 4 arcade games, lots of dynamite, lots of gold and lots of fun!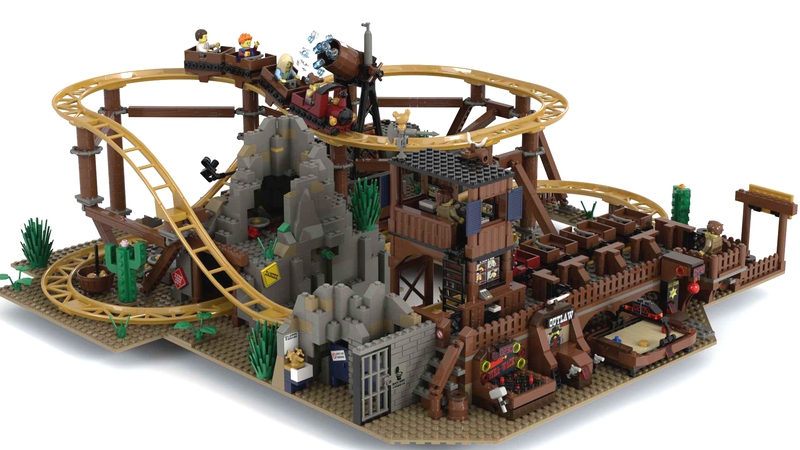 Toys N Bricks is your destination for the latest and hottest LEGO News, Sales News, Creations and Reviews! (www.toysnbricks.com)
Visit the new 2020 Toysnbricks LEGO Forums for LEGO Related Discussions. Registration is free.
Subscribe by Email and Follow Us on Facebook, Twitter, Instagram and Flickr.