The latest LEGO Ideas Project Creation to achieve 10 000 supporters is LEGO Gravity Falls: The Mystery Shack by TopLego8. Congrats! Your project would now be headed to the LEGO Ideas Review Stage where it would be evaluated to potentially become the next official LEGO Ideas set.
LEGO Ideas Mystery Shack from Gravity Falls Description
Introducing the LEGO Ideas Mystery Shack from Gravity Falls! The set consists of 2510 pieces, features 7 unique rooms, and comes with eight Minifigures and two animals!
-Meet Mystery Twins Dipper and Mabel Pines! Help Dipper find Journal 3 and use it to uncover the strange anomalies going on in Gravity Falls!
-Explore the oddities of the Mystery Shack with Grunkle Stan, and stare in amazement at attractions such as the Sascrotch!
-Get into some body-swapping hijinks with Soos and Waddles using the Electron Carpet in Ford's study!
-Work the Gift shop with Wendy and sell merchandise at ridiculously unreasonable prices!
-Keep the Deed to the Shack safe from Lil' Gideon!
-Who is the Author of the journals, and what could Grunkle Stan possibly be hiding behind the vending machine?
So what are you waiting for? Let's go solve the mysteries of Gravity Falls together! They're out there, somewhere in the woods, waiting.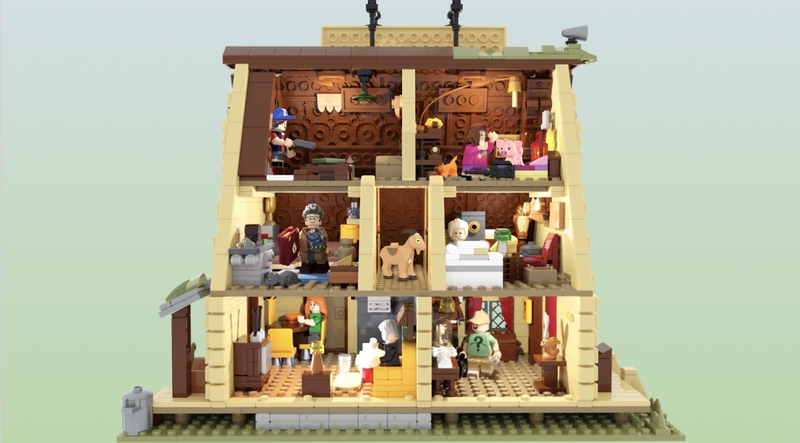 Toys N Bricks is America's greatest destination for the latest and hottest LEGO News, Sales News, Creations and Reviews! (www.toysnbricks.com)
Visit the new 2020 Toysnbricks LEGO Forums for LEGO Related Discussions.
Subscribe by Email and Follow Us on Facebook, Twitter, Instagram and Flickr.