The latest LEGO Ideas Project Creation to achieve 10 000 supporters is LEGO Ideas Project Creation Motorized Lighthouse by Roses Must Build. Congrats! Your project would now be headed to the LEGO Ideas review stage where it would be evaluated to potentially become the next official LEGO Ideas set.
LEGO Ideas Project Creation Motorized Lighthouse Description
Standing at over 47cm tall, this Lighthouse rests on an isolated island, shining its light through the thick fog. Arrive at the pier and go up the stone staircase on the side of the cliff. A cozy little house is waiting for you at the top of the island, and those who are not afraid of heights will surely love the view from the Lighthouse balcony!
I wanted to make light and movement the main features of my next creation, while also making a structure that would stand out in a room. Using a Power Functions battery box, an m motor, and all the pieces I could find in my collection, I built this motorized Lighthouse that is sure to safely guide all ships to shore.
To make the model reasonably scaled but also give it an imposing size, I made it in nanoscale. Don't worry! Despite being scaled to nanofigures, the model is still over 47cm tall. If you want, you can remove the battery box and m motor and use the rotating lever on the side of the island to rotate the light.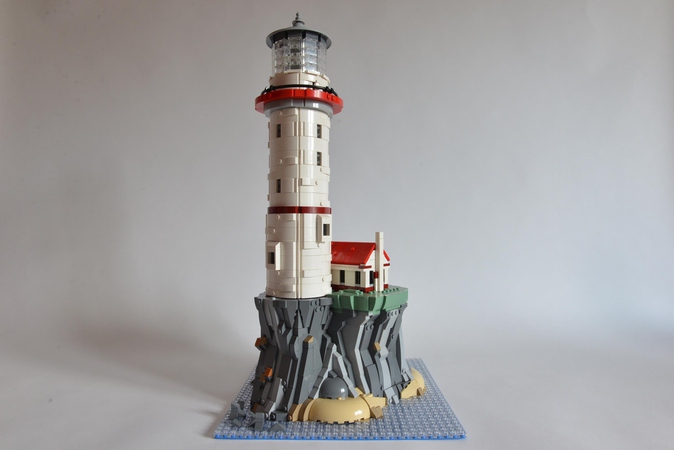 Toys N Bricks is your destination for the latest and hottest LEGO News, Sales News, Creations and Reviews! (www.toysnbricks.com)
Visit the new 2020 Toysnbricks LEGO Forums for LEGO Related Discussions. Registration is free.
Subscribe by Email and Follow Us on Facebook, Twitter, Instagram and Flickr.