The latest LEGO Ideas Project Creation to achieve 10 000 supporters is LEGO Ideas Southwest 737-800 by BigPlanes-Customs. Congrats! Your creation would now be headed to the LEGO Reviews stage where it would be evaluated to potentially become the next official LEGO Ideas product.
LEGO Ideas Southwest 737-800 Project Creation
For years now LEGO has had a massive gap in there product line where a realistic passenger plane should be. The LEGO group has made many realistic train sets such as the Horizon express and Emerald Night and has also made multiple automobile sets such as the Ford Mustang and Ferrari to satisfy car enthusiasts. Sadly, not a single LEGO passenger plane set exists in the current LEGO line up that resembles anything that we are used to seeing at airports today. I aim to change that with my model of one of the most commonly seen airliners found at airports, a Southwest 737. Whether or not my model is seen as a viable product option, I believe I speak for millions of LEGO and aviation enthusiasts around the world in hoping that LEGO will finally be able to provide us with a realistic airplane set that can be displayed at LEGO airports throughout LEGO cities everywhere.
After thousands of fellow LEGO and aviation fans supported my previous submission, a LEGO 737-500, I got a plethora of feedback on how I could improve upon the design of my previous 737. This is a minifigure scale model of a Southwest Airlines 737-800NG depicted in the most recent Southwest "Heart One" livery.
This model features:
– A full interior
– Retractable landing gear
– Functioning flaps
– A cargo hold
– Motorized engines ( optional power functions add on)
– Modularity for easy access and transportation / storage
– Split scimitar winglets
The 737-800NG ( next generation) was developed in the late 90s and had its first flight February 9,1997 and was first flown commercially by Southwest Airlines later that year. The NG was developed after the 737 classic series and is still being manufactured to this day. The 737NG is a narrow body twin engine jet airliner that is used extensively around the world my multiple different airlines. I choose Southwest Airlines for the livery because they are the largest 737 operator in the world and their livery offered an opportunity to add a splash of color to a lego aircraft model.
I've always had a passion for aviation and would be thrilled to be able to share my love for LEGO aircraft with fellow aviation and LEGO enthusiasts alike. This model would finally offer an accurate passenger plane build for LEGO fans around the world.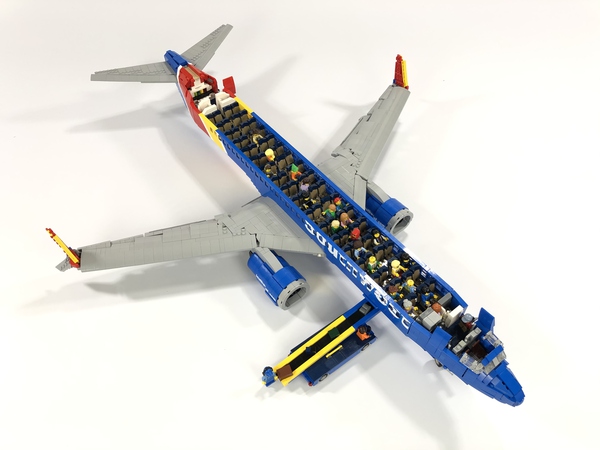 Toys N Bricks is your destination for the latest and hottest LEGO News, Sales News, Creations and Reviews! (www.toysnbricks.com)
Subscribe by Email and Follow Us on Facebook, Twitter, Instagram and Flickr