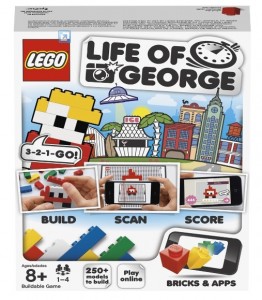 The new LEGO Life of a George 2 set is now available for sale in United States and Canada. Comes with 144 LEGO pieces, a playmat and a George Sticker. Available at Amazon US for $29.99 or Toys R Us Canada for $34.99.
LEGO Life of a George II Description (Set #21201)
Life of George includes both a building game mode with single and 2 player mode, as well as creation mode where you design and capture your own models. In the building game you receive challenges on your iPhone/iPod Touch/iPad/Android devices that you build with real LEGO bricks. In the 2 player mode you can challenge a friend and compete on 5 different models to see who builds the fastest. There are various difficulty levels determined by the models and the time setting you choose (easy or hard).
Build, Scan, Score: use accuracy and speed to compete for the highest score!
Play on your own or challenge up to 3 of your friends and family.
LEGO Life of George app minimum requirements: iPhone 3GS, iPad 2, iPod Touch 4th generation and Android 2.1
Download new models from the ever-expanding online library! Save and share your models!
Includes 144 LEGO® bricks, play mat and a George sticker