Jari writes in to inform us that he found a unique minifigure pants piece at the LEGO Store in Belgium (picture on the right). This look a bit similar to one of the DLC Western Pack Pants for the LEGO Video Game. He reports that the Belgium LEGO store also had the other three pair of pants for the DLC Western Pack Pants.
The LEGO Movie Videogame DLC Wild West Pack is available for download at Steam or at Playstation for $2.99. Requires The LEGO Movie Video Game in order to play it.
It's a rip-roarin' good time in the wild, wild west!  Get a chock-full of laughs and abilities with these special pants.  Spin around and attract more studs with the Tornado Pants. Put on your Prospector Pants and spawn more high-value studs. Get all fired up with the Hot Pants and jump higher with the Jack Rabbit Pants.  There's even more action with new characters: Old Ollie, Wild Will, Sudds Backwash and Rootbeer Belle.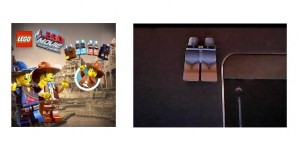 Follow and like Toys N Bricks: